Technology Trends in UBI: Are Auto Insurers' IT ready for the future?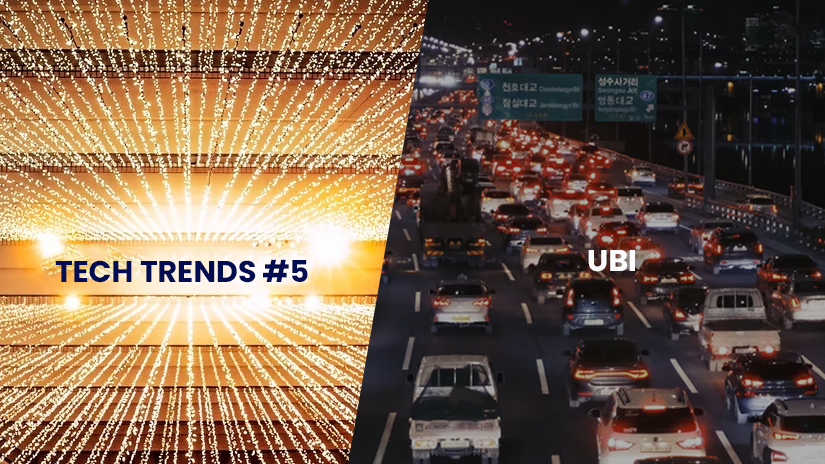 (First published in March 2022 and new updates added)
The future of auto insurance will be telematics-based. The future is right now knocking at carriers' doors, going by the fact that the biggest market for usage-based insurance is North America with over 7.1 million active policies. Progressive, Allstate, and Liberty Mutual have the largest share of this UBI pie. There are more than a thousand auto insurance companies operating in America but only 19 insurers are offering UBI. However, over 63% of Americans are open to switching to usage-based insurance. As this pie grows bigger, everyone will want their share. The entry of automobile manufacturers like Tesla and Ford into UBI has given a wake-up call. While the race to unleash the potential of UBI as a mass-market product is on, are all carriers ready for the IT effort needed?
This leads us to the 5th technology trend that is changing the way we buy auto insurance: Usage-based insurance
Here are the other 6 trends that we have written about:
UBI might be the future of auto insurance but...
A TransUnion consumer survey in February and March 2022 found that 40% of respondents were offered a telematics program, compared to 32% in November 2021. 65% who were offered a telematics program opted in showing a 16% rise. While drivers are showing greater acceptance for UBI, there is still a concern about whether this will actually bring insurance premiums down. Over two-thirds of respondents were concerned if driving data will be fairly assessed.
The Consumer Federation of America (CFA) acknowledges that usage-based insurance is a trend that will be positive for drivers but it also raises a warning. UBI in its current form has pitfalls such as a lack of transparency in pricing, consumer privacy protection, and potential unfair discrimination.
CFA recommends that state regulators should adopt consumer protection regulations that for instance make insurers demonstrate the actuarial basis of the data collected and used in UBI programs (Source: Forbes).
While regulations will need to be strengthened, many auto insurers may not yet have the technology to fully support UBI.
The challenge faced by new entrants into the UBI Market
While telematics has been around for the last decade, the buzz in recent years has grown louder because of the convergence of connected vehicles, next-gen technology and the data revolution. In the early years, insurance providers had to make available hardware systems that would plug into the vehicle's OBD-II port. The cost of producing and distributing these devices to create connected cars was not considered worth the effort. Smartphone technology and GPS has removed this barrier of special hardware and made usage-based insurance an option that is attractive to both carriers and consumers.
The challenge for a wider UBI adoption has moved from hardware to whether insurance technology platforms have the capability to tap into the strong ecosystem that has been built around connected car services. This ecosystem includes automotive IoT, insurance providers, big data analytic companies, and cloud service providers. Predictive analytics and machine learning technologies have to be a big component of the technology infrastructure. This is because real-time data streaming means gigabytes and terabytes of information that without ML would be an impossible task to extract useful and actionable information. Insurers cannot afford to underestimate the importance and challenges of data capture and integration into their systems.
Most insurance carriers are well established and have complex technological capabilities built over decades. There is no getting away from the fact that going for a complete system overhaul would take years and require a substantial investment. This is the strongest reason why some auto insurers have decided to park the adoption of a usage-based insurance model for now. But rather than a complete overhaul, if insurance carriers were to look at changing the right pieces of their technology frameworks necessary for telematics implementation, it might help them to get to market quicker.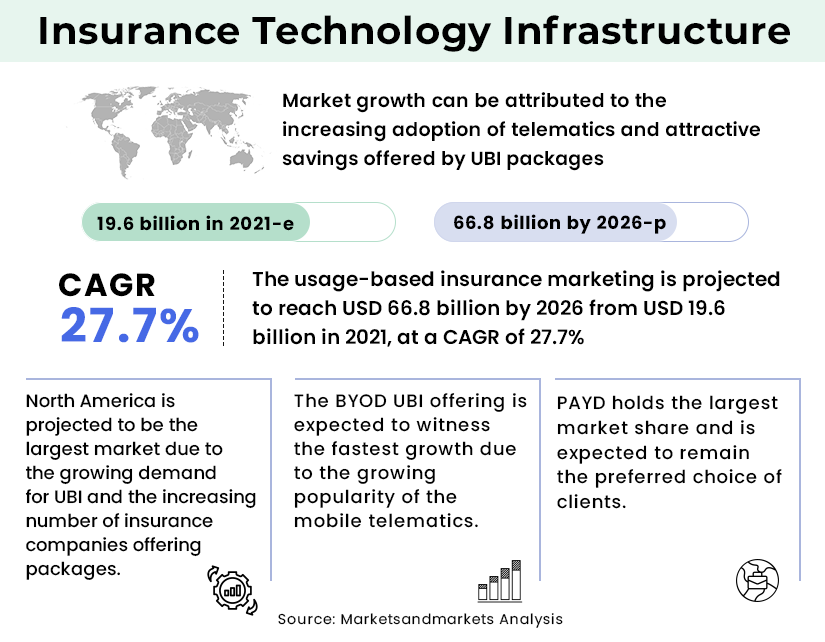 In the headlights: Insurance technology infrastructure
Usage-based insurance, as I have already described it, is not a stand-alone approach. It requires an upfront outlay on product innovations, UBI technology partnerships with telematics providers, and data management. There will also have to be an up-gradation on insurance core platforms, like policy management, claims, etc. Data storage and privacy concerns will also need to be addressed. UBI is predicted to grow 5x in the next 5 years, so this upfront investment is bound to pay off in the long run.
63% of drivers in North America are open to switching their current auto insurance policy to one with a telematics-based premium.- Report published by Cambridge Mobile Telematics and IoT Insurance Observatory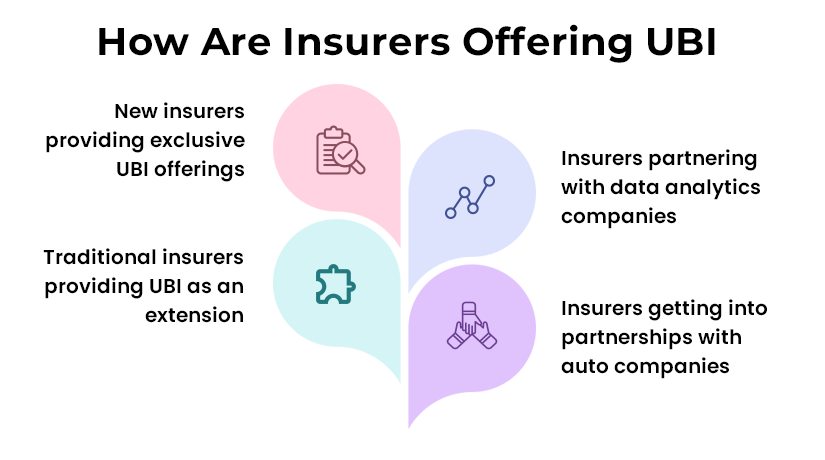 3 Approaches to insurance platform modernization
Insurers already understand the technical challenges of legacy tech stacks. "If it works, why fix it?" is no longer a standard to abide by. The common belief that it can take up to 5 years to achieve end-to-end technology modernization has been stood on its head by insurtechs like SimpleSolve which delivers a complete core technology platform in 13 months, from start to finish. Its state-of-the-art platform, SimpeINSPIRE, has an integrated core system as its base, yet is designed for seamless integration with emerging technologies and third-party services. The full-featured insurance administration system is architected with an API layer that allows it to become a host for a larger insurance ecosystem.
The bite-sized approach may also be a practical option for insurance carriers looking at a more phased approach in terms of time and up-front costs. This phased-out approach is performed iteratively so that the new core grows from strength to strength and in a less disruptive manner. This approach works for two important reasons
Allows insurers to take advantage of the latest technology, adapted to specific modules

It allows for the most critical phases to be modernized first so that new products like UBI can go to market faster.
Some insurers have taken the refactoring approach but this comes with big disadvantages down the road. For instance, your claims management is functionally effective but it runs on a legacy tech stack and a code base that has got too heavy. Refactoring and rearchitecting alter the system's internal structure without touching the functionality. It will require a one-to-one mapping of code migration to a more modern programming structure. These changes, though, can be complicated and costs can add up to way higher than anticipated. Another downside is that it becomes a missed opportunity for bringing in a scalable and flexible system through a microservices architecture.
Finally, the growth of usage-based insurance is not limited to auto insurers, though that is where the spotlight is right now. The trends indicate that health insurance and health telematics have incredible potential. So to home insurance, with 69% of homes in the U.S. having at least one smart device.
If you are looking to understand how to fast forward your insurance technology modernization, talk to us. We are an award-winning technology company based in New Jersey, delivering integrated insurance solutions for the leading insurance providers.
Topics: Legacy System Modernization