Tech Trends Reshaping Insurance (2): Collaborative Ecosystems, the New Model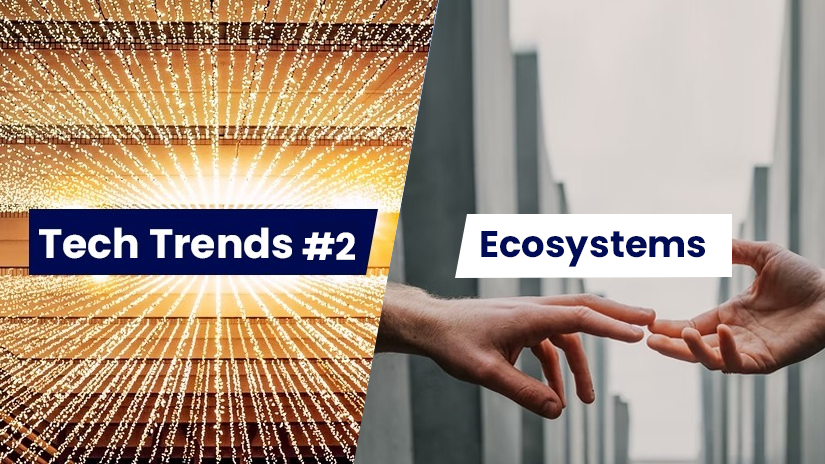 The insurance industry is coming to terms with the new reality - no single enterprise can own and operate all components of an insurance system. For innovation to happen it needs collaboration and cooperation. These are the vital cornerstones of customer-centric evolution. In fact, consumers are emerging as the single biggest disruptive force as they expect more from their insurance providers. Since consumers are almost always plugged-in, new opportunities are also emerging that will combine transformative technology, behavioral economics, and collaborative ecosystems.
These are the 7 tech trends that are reshaping insurance in 2022 and beyond and we are going in-depth into each of them.
Intelligent automation in core functions
Collaboration with ecosystem players
The growth of usage-based insurance models
CARE-based digital tools for improved CX
Chatbots that will take over 95% of customer conversations
Big data usage for climate risk modeling
Incorruptible blockchain data
Why collaboration is the answer to the new on-demand world
Insurance is evolving in myriad ways - from the way consumers buy their coverage to how information about risk is aggregated and even how new service offerings are structured (think usage-based automotive insurance). Digital transformation is a result of a number of factors that have come together.
In the US, smartphone sales in 2005 were a mere $3.8 billion. In 2022 it is predicted to cross $74.7 billion. The proliferation of mobile devices has completely changed how consumers interact with businesses and insurance is no exception.

The internet of things IoT allows data to be captured from sensors in different situations and auto insurance and home insurance are quickly adapting to this opportunity.

The emergence of Big Data, AI and cloud computing are the drivers to better understand price, manage risk, or even break new ground in the way insurance is bought and sold. Intelligent automation is another valuable spin-off.
Collaboration is the only way insurance carriers can quickly integrate innovative solutions built on big data analytics, wearables, and connected devices. The operative word here is 'quickly'. Trying to develop proprietary solutions would take years.
Collaboration vs Cooperation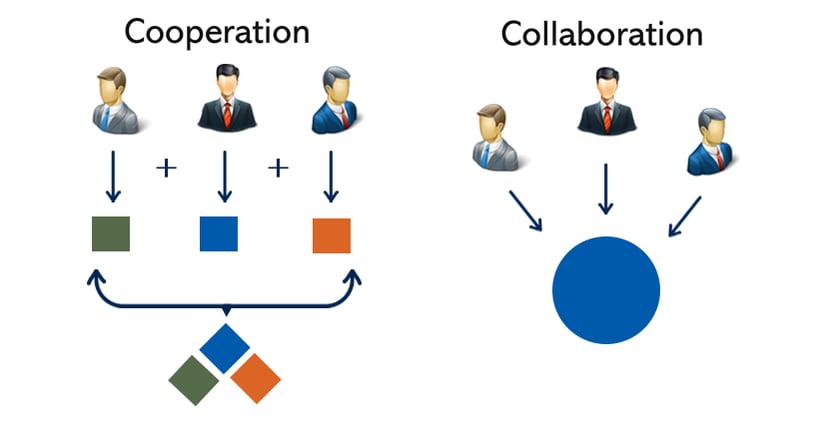 I mentioned collaboration and cooperation earlier. Many might consider it synonymous but there is a small but crucial difference that can impact how work gets done. Collaboration is shared ownership when different people or services pool their resources and professional skills to achieve a shared goal. Insurtech companies partnering with insurance carriers for core platform integration is an example where collaboration produces an effective outcome.
Cooperation generally keeps everyone in their own swim lanes. For example, Unive in the Netherlands, which brands itself as a cooperative insurance company, says it wants to create a bigger sense of safety of which home insurance is just one part. For instance, they want to help prevent burglary, water leakage, or electrical damage. Not just that but also establish a community of their customers with their neighbors for better safety.
Unive is doing this by partnering with installation companies, handymen, or firms that offer alarms and sensors. In short, they are creating an ecosystem by bringing together related services that are not part of Unive's core expertise. In a cooperative partnership (embedded insurance is another example), a fee is generated for every transaction successfully completed and is payable by whoever is benefiting from the transaction
It is not collaboration vs cooperation because the two are not at odds with each other. They are how the new insurance ecosystems are developing. For both routes though, technology is what is bringing the vision together.
Insurance ecosystems and innovative collaborations
As companies, consumers and distributors go more and more online, processes have also shifted to a digital environment. The dependence on physical presence and paper policies seems to be fading away. In the new insurance world, collaborative tools are becoming a necessity to support this virtual environment for both customers and insurance agents. In our own workday, we use a number of collaborative tools such as video conferencing tools, document sharing, online instant notifications, and more. In fact, these tools are taken quite for granted unless the network connectivity is lost and then we are all at sixes and sevens.
In the insurance environment, collaboration requires an open ecosystem platform, Modern core insurance platforms like SimpleINSPIRE are built with the purpose of not only being scalable but also for easy integration with third-party solutions. A survey by Capgemini indicates that 75% of insurers say that they are collaborating with insurtech companies to improve their customer experience. The effect of this collaboration will drive the outreach to millennials and Gen Z, who for the most part are digital natives. They have also shown a distinct preference for insurance policies that are easy to buy and require less paperwork.
40% of insurance is expected to be sold by third-party product or service providers in the next 10 to 20 years.
The customer trends in 2002 show a distinct shift from 'selling' the need for insurance and rather introducing insurance at the point of need. This is why embedded insurance is becoming the new marketing strategy. 40% of insurance is expected to be sold by third-party product or service providers in the next 10 to 20 years.
Insurers will have to reorganize and abstract insurance functionality as a suite of plugins that use open APIs that other digital businesses can insert into their own customer purchase workflows. There are many instances of embedded insurance that we have experienced as a customer. For instance, travel insurance while booking a flight, car rental companies offering coverage while renting a vehicle, or even Airbnb offering host protection insurance.
SimpleSolve has delivered an end-to-end policy admin system with an API-first, microservices-based architecture that is mobile-ready. This allows our insurance clients to modularize core capabilities that facilitate the integration of third-party components such as IoT and drone technology but also plug into partner ecosystems and have their products distributed.
Technology partnerships are also breaking new ground. Nationwide announced its collaboration with robotics company Labrador Systems to develop a new type of personal robot to empower older individuals to live more independently and also provide support to their caregivers. These assistive robots are still in the pilot stage and will feature advanced 3D vision, obstacle sensors, and navigation capabilities. They can operate on command or even on a pre-set schedule by delivering items such as medical pills at a specific time. Nationwide has been quick to identify the fact that an increasing number of America's population is moving into the 65+ bracket and the deep need for practical help at home.
Outside tech-powered giants like Amazon, Tesla, and Ikea have already started making in-roads into the insurance industry and are using collaboration as their strategy to conquer new markets.
These retail giants come with a strong understanding of customer relationships as well as proven digital-ecosystem technology. Not just that, their big data and AI-driven customer insights have given them the advantage of being able to launch new products and venture into new markets with confidence. For example, Tesla has partnered with Liberty Mutual Insurance in the US and Aviva in Canada, to launch its own risk carrier for its Tesla customers. Amazon has leveraged its retail strength by adding insurance products (partnering with Nationwide) for the small and medium enterprise sellers on its platform. Ikea has partnered with IptiQ's global insurance to develop tech-enabled insurance models. These plans are tailored for individual markets (with their compliance regulations) and offer home content and accident coverage.
Finally, digital collaboration has to be on everyone's agenda
These insights only scratch the surface of what collaboration can bring to the insurance industry. The industry will continue to evolve around new technology and trends that enable engagement. Insurers will have to ask themselves the million-dollar question, should they build or borrow new technology. For some insurers, these advanced digital capabilities might seem out of reach. However, they are technology enablers that can provide carriers with the capabilities to adopt customer-centric strategies. Contact our team of experts to know how SImpleInspire can provide a platform that enables seamless collaboration.
Topics: Digital Ecosystems