Tech Trends Reshaping Insurance (1): Top Use Cases for Intelligent Automation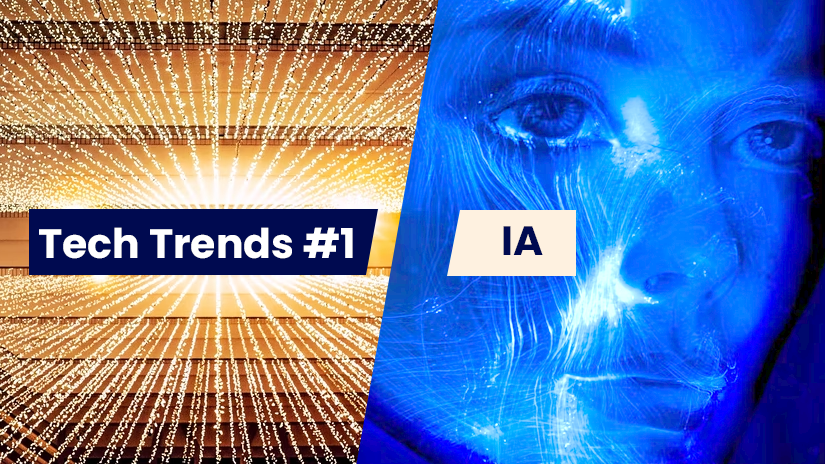 The tech trends that were predicted to dominate 2022 are well on course to propel the insurance sector to massive digitization. Sure, insurance executives were considering digital innovation well before 2020 but the crisis pushed insurers into a fast-tracked redirection. After a year of recovery in 2021, the data-intensive insurance industry has leveraged the lessons learned and is continuing to transform faster than it ever has before. Take a look at the top 7 technology trends that are shaking up the insurance space.
Intelligent automation in core functions

CARE-based digital tools for improved CX

The growth of usage-based insurance models

Chatbots that will take over 95% of customer conversations

Big data usage for climate risk modeling

Collaboration with ecosystem players

Incorruptible blockchain data
Many of these technology trends we have written about extensively, the remaining each require their own article to do justice. I will start it off with the first technology trend that is making inroads in insurance as we know it - intelligent automation.
How Intelligent Automation is transforming insurance
RPA was the early rule-based automation process that speeded up repetitive processes that are part of every insurance workflow. But even this had very few takers in the earlier years. A survey conducted by Statista in 2018 had only 5% of insurance company responders say that they were using robotic process automation in selected claim and underwriting processes. Compare this with a study by Deloitte in 2022 that says 65% of insurance leaders will spend more on automation to increase efficiency. This spend will for the most part be on intelligent automation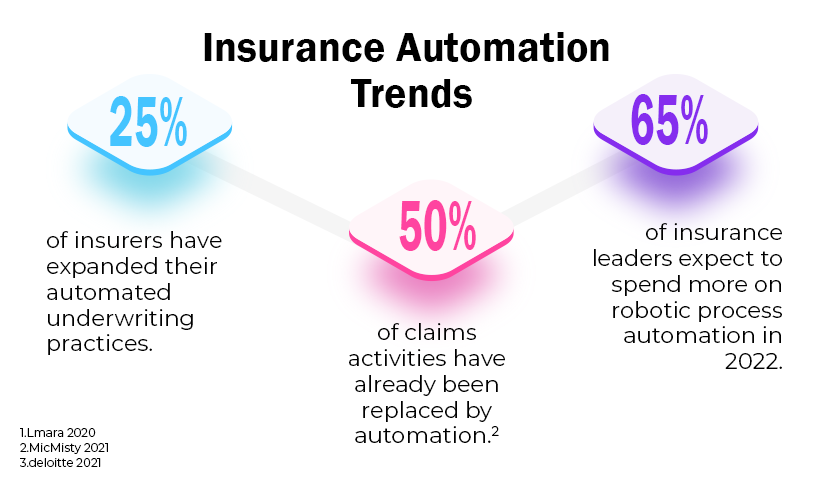 Intelligent automation (IA) goes by a few other terms like hyperautomation or cognitive automation. The hyperautomation technology combines RPA with AI technologies such as machine learning, natural language processing (NLP), OCR or computer vision. Automation that is intelligent enough to learn as it goes brings decision-making based on big data into core functions. Basically, IA is the decision-maker and RPA provides the muscle.
Here are some top use cases where intelligent automation will have the greatest impact in the coming years.
Increasing automation in underwriting
In the P&C insurance space, 'smart' underwriting will be the success differentiator for carriers primed for growth. The underwriting operations are already under pressure to reduce costs while speeding up what is generally a lengthy process. Further, many companies are realizing that their underwriting systems need a more modern underwriting capability supported by better data platforms. There is also a growing need to innovate because carriers are seeing new distribution channels evolving and there is also a threat from OEMs stepping into the insurance space. Customers themselves are becoming more comfortable with digital shopping for insurance. Finally, massive amounts of data are now available to underwriters and new core platforms are making it accessible. These changes are pushing underwriting out of the familiar policy administration mode.
Implementation of intelligent AI-driven solutions to automate insurance underwriting will speed up data collection, loss assessment, customer claim history review, and more. An insurance automation example to explain the benefits can be clearly seen in new submissions. Bots can parse emails to retrieve underwriting documents (using NLP), extract the required information, cross-reference with external data sources, and validate the submission applications for completeness. This makes new submissions be processed four times faster.
Overall intelligent automation can improve accuracy rates by up to 90%. Speed up service delivery by 80%. Increase business productivity and profitability by 50% and achieve almost 100% regulatory compliance.
Speed has become an essential commodity for improving the customer experience. Millennial insurance customers want to be able to sign up for a policy in just 5 minutes and they want a completely digital experience. P&C insurers have to prioritize speed to compete if they want to stop customers from shopping around.
Automating claims management for speed and accuracy
Annalise manages a team of insurance claims processors. They go through 20+ checkpoints for all incoming claims - validate the information of the insured, verify the coverage, and consult with data science specialists and investigative units before reaching a decision on settlements. It is an incredibly complex system that whirs into motion for each claim submission. The complexity is also what makes it very time-consuming.
Now picture this same process when intelligent automation is brought into the mix.
An insurance claims dashboard automatically validates all the details and coverage even before the claim is assigned to Annalise's team. As the claim moves through the automated workflow, inputs are added on such as red flags from fraud detection algorithms, and comparisons with relevant external data such as weather analysis or traffic details. Information is automatically generated through predictive models that analyze information such as crash images uploaded by the claimant and drill down into the images. This is just one of the many automation examples that show how AI and a digital workforce can combine and work together to create a better claims process.
When files are digital and are available on the cloud, they can be analyzed using machine learning algorithms that are preprogrammed. This improves both speed and accuracy. Such an automated review not only impacts claims but also policy administration and risk assessment.
Policy management and IA
The whole cycle of policy management operations is an important intelligent automation use case. At the stage of policy issuance, the underwriting pre-checks have been completed and the underwriting decisions have already been made. The policy is ready to be issued, information has to be updated in the internal systems and the customer has to be informed. While this sounds like a fairly simple process, it is anything but and has a lot of manual work involved.
Prebuilt RPA and AI in the policy management software, as provided by SimpleSolve's suite of services, ensure an end-to-end digital integration of the insurance business. Further, the analytics derived from the policy data becomes the base to automate decision-making. An automation example in support of this can be found in the endorsement request intake and routing. Inbound requests can come from customers, agents or brokers through emails or voice transcripts (phone calls) - unstructured data. Machine learning can identify and extract the inbound change requests. The bots can classify the supporting documents and extract key data points from each of these documents. The bots then turn the extracted data into structured information that can then automatically perform the required edits to the policy system.
Emerging digital technologies integrated into modern insurance policy administration software like SimpleINSPIRE (from SimpleSolve) also automate the real-time report generation process.
The intelligent automation market is predicted to explode in popularity with the digital workplace undergoing many changes. Institutional insurers have the advantage of the longstanding trust and scale that they have earned through the years. If they increasingly integrate AI and emerging technologies across their operations, especially in augmenting their workers' capabilities, they will be able to be ahead of challenges from new market entrants who have the digital capabilities but not the knowledge garnered through the years.
Topics: Intelligent Automation