About Us
OUR MISSION STATEMENT
Our Mission is to empower the continuing digitization of Insurance through innovation and collaboration. We continuously leverage emerging technologies to provide our clients the competitive edge to grow their business.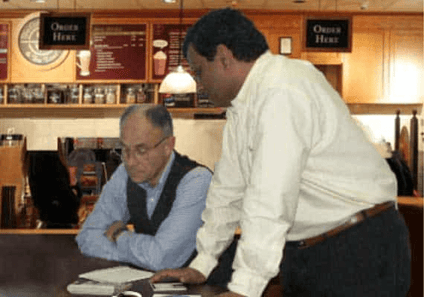 WHO WE ARE
SimpleSolve was conceived in a coffee shop in New Jersey in 1999 by two insurance professionals and personal friends Antony and Sam. An incidental topic of discussion during a catch-up coffee meet was the complexity, cost and frustration in implementing policy admin systems. Wishful thinking to create a simple solution soon became a resolve, and the purpose of more such coffee meets. With a vision captured on a few paper napkins, in 2000 Antony and Sam started SimpleSolve – to create Products and Solutions Built by Insurance Professionals for Insurance Professionals.
Putting their "System User" caps on, Sam and Antony provided the "In-Your-Shoes" experience and built their enterprise Insurance Platform – SimpleInsure. With several successful implementations they proved that "Simple is possible" - winning both Clients and friends along the way.
Fast forward to the current era of a Digital Economy, where there is an urgency for Carriers to invest in disruptive technologies, while juggling their growing business needs. Acutely aware of large carriers leveraging technology to compete and grow, Simplesolve decided to come up with a solution that would level the playing field for Regional and Mid-Size Carriers. This resulted in creating a fully re-engineered P&C Insurance platform "SimpleINSPIRE", based on the latest technology, backed by 20+ years of production experience, and architected to continuously leverage emerging technologies through innovation and integration. Released in Q3 of 2019 and with Clients already in production on the new platform, SimpleINSPIRE, is a cutting edge, future ready P&C Platform that offers over 70 industry's leading Insurtech integrations, making it a robust and seamless platform that delivers a strong ROI.
Sam has retired recently, but SimpleSolve continues to grow with a strong leadership and a loyal technology team.
When you deal with us, you are dealing with fellow insurance professionals who know what it is like to be in your shoes! With our no-surprises approach, you will like the way we work - And that is a promise!
Vision Born in Coffee Shop
Sam and Antony come up with a Vision for Simplesove and an Insurance Admin System in a Coffee Shop.
SimpleSolve Incorporated
Sam and Antony quit their jobs to incorporate Simplesolve in Jan 2000. Detailed design and development of SimpleInsure, a full insurance admin suite commences.
SimpleInsure Released
Client Server version of SimpleInsure was completed and released. Simplesolve wins its first client.
First Client Goes Live
First Client, a specialty professional liability client, goes live with SimpleInsure
Agent Portal Released
A web based Agent Portal to rate, quote, bind New Business and also service policyholders was developed and released.
Policyholder Portal Released
A web based policyholder portal was developed and released. It allowed policyholders to access policy documents and invoices.
SimpleInsure .Net Version
SimpleINSURE was re-written on an SOA based .Net platform. Step was necessitated because Microsoft stopped support of VB6
SimpleINSPIRE Architecture
Founders forecast major transition of Insurance industry and embark on a project to develop a new system SimpleINSPIRE based on the latest tech stack to support emerging digital insurance business models.
SimpleSolve moves to its own facility in Pennington NJ
SimpleINSPIRE Released
SimpleINSPIRE development was completed, tested and released. Marketing of SimleINSPIRE commences.
First SimpleINSPIRE Client Live
The first new client signed up to implement SimpleINSPIRE in Feb 2020. They went live with 10 years of migrated data, in April 2021.
Simplesolve begins partnerships and integrations to create an eco-system of Insurtech integrations.
4 Clients under Implementation
One new client goes live on SimpleINSPIRE. Three more clients under implementation.