The CARE Model of Insurance Distribution - Insurance Tech Trends (3)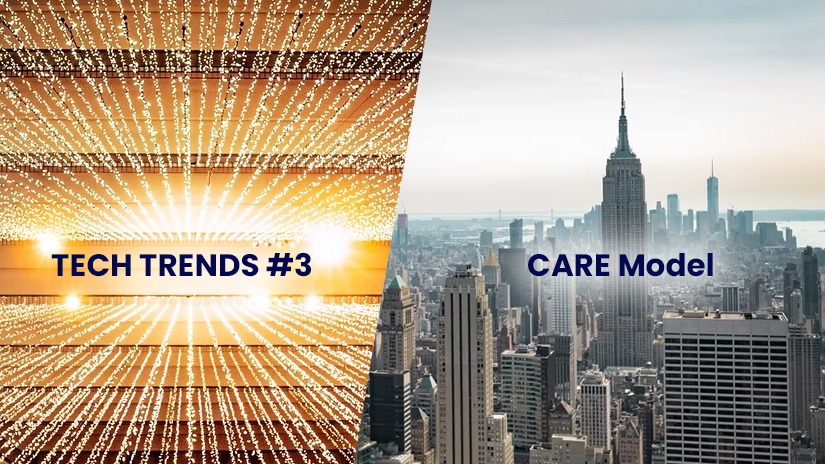 There are multiple forces that are an impetus for change in insurance distribution. Agents and brokers aren't reaching out to customers like they used to do - cold calls and direct mail don't have the impact they once garnered. Today, customers can search and sign up for policies on the internet in a matter of minutes. Insurance intermediaries have upped their distribution management and they expect to get the right support from insurance carriers. It translates into an investment in digital tools, aggregating more data sources, and even incorporating behavioral economics.
This leads us to the fourth technology trend that the insurance sector is integrating into its business strategy - CARE-based insurance distribution. A report by PwC last year has identified 3 forces that are shaping this new path - the resilience of intermediaries, new expectations from both commercial and individual buyers, and the difficulty in building scale in direct channels.
As a side note, there are 7 technology trends reshaping insurance in 2022 and beyond. Some of these we have already written on, the remaining we will cover as independent articles shortly.
Intelligent automation in core functions
Collaboration with ecosystem players
CARE-based digital tools for improved CX
The growth of usage-based insurance models
Chatbots that will take over 95% of customer conversations
Big data usage for climate risk modeling
Incorruptible blockchain data
The CARE Model as a response to the digital era
Covid-19 might have moved most businesses to a digital-only environment for many months but it only accelerated a phenomenon that was already in motion. The new trends in insurance distribution began to focus on channels that had the potential for greater value creation. This became the new CARE-based distribution model for insurance companies in the US.
The term CARE is derived from 3 values that are dominating the digital age:
Convenience - Make it easy for potential customers to buy our insurance products by enabling them to interact via any channel that is easiest for them.
Advice - Make it intelligent by predicting your customers' needs. Suggest relevant solutions through AI-enabled services. Give your customers easy access to all the information they need so that they can make confident product decisions.
REach - Instead of customers searching for us, reach them at a point where they most need our products. Enable both interactions and transactions from any device.
The CARE model requires a relentless focus on the digitalization of distribution channels. Customers are demanding CARE experiences, particularly because they are already accustomed to receiving it in other transactions such as banking services.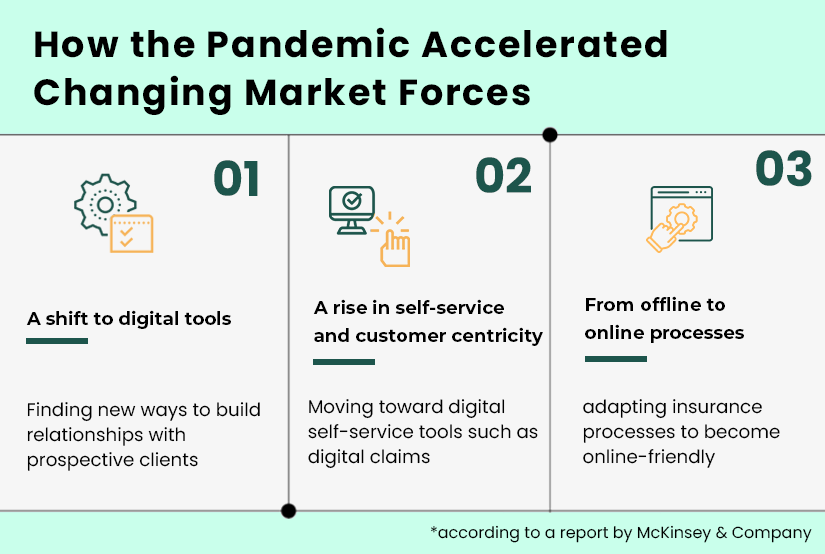 How the CARE concept is changing insurance distribution
"Ok, Google Goodnight" the command can set off a daily schedule of tasks when you go to bed. It can turn off Google-enabled lights, your security system will be turned on, your phone will ask you what time you want to set your alarm, and even play soothing music to which you can drift off to sleep. You don't need to walk through your home turning off stuff. It's convenient, easy and accessible. A similar seamless interaction is how the CARE model is disrupting insurance distribution. There are 3 mighty forces (as mentioned earlier) that are driving this change
Force 1: The changing tides in relationships with intermediaries
Capgemini and Efma's 2021 Global Insurance Report throws more light on the expectations of agents, brokers and even policyholders. A majority of insurance customers still prefer the human touch and experience of professional brokers. This is overwhelmingly true for millennials who are new to buying insurance. For instance, 28% of survey participants said they need extensive professional advice when looking for auto insurance.
70% of insurance executives who participated in the Global Insurance Survey said they interact with customers through direct channels. 68% are investing in enhancements in channel capacity.
It is a wake-up call for insurers and their insurance partners. Agents and brokers realize the need to power up their digital engagement capabilities. While policyholders need their advice and expertise, they still require engagement tools for this conversation. Tools such as digital illustrations and single-screen product comparisons can increase success in sales conclusions. Agents are looking for more support from their insurers to develop these capabilities. Yet less than two-thirds of insurers say that they provide their agents and brokers with such enhanced customer experience tools.
Force 2: Evolving customer demands
Customers rarely go directly to an insurance intermediary. They normally use more than one channel to research before they purchase. This is called the ROPO effect or Research Online, Purchase offline. This applies to not only individual policyholders but also small and medium commercial firms. Today, the customer has got almost unlimited access to information. The Global Insurance Report has another fascinating insight - 64% of commercial firms will first research coverage options using digital channels.
The digital generation, to which we all belong, is having an impact on almost every type of distribution model. One of the most visible ways is in the way that insurtech providers, as well as insurance carriers themselves, are actively participating in collaborative ecosystems. For instance, in the last few months, SimpleSolve has entered into partnerships with Seibels BPO services and Intellagents. With Intellagents, AI and automation come together to provide our clients support across multiple channels and transition to high-performance digital insurance models.
Force 3: Scaling direct distribution channels and embedded insurance
Direct distribution channels, also known as self-directed channels are the way insurers sell products directly to customers without an intermediary. This puts the marketing team in direct control of the brand message and reaching the product to the target audience. While this is still an evolving route, it cannot be ignored. Websites, digital apps and social media are the most common direct distribution channels.
Embedded insurance is the hottest topic right now for US insurance companies when it comes to insurance distribution channels. It directly answers the CARE value promise of providing insurance anytime, anywhere and when most needed. Embedded insurance is when insurance is bundled into the purchase of a third-party product or service. Lengthy insurance forms and claims process that customers are wary of is made simpler through embedded insurance. Insurance is offered when the customer has already entered all their details in the purchase of an allied product or service (like when buying a flight ticket or buying a car). Providing an insurance cover in this scenario becomes just a single click away. The claims process is similarly made easier as there is existing data showing details of the purchase so no further proof is necessary. This creates a simplified, closed-loop insurance process - CARE in action.
Insurers who sell through embedded insurance platforms will be able to control the products they offer in real-time and this in turn will help them to decide on the exposure level they need for different products. Embedded insurance will provide insurers with ways to innovate in a market that is constantly growing.
Insurers are understanding the need to pivot and invest in customer-centric strategies in the near future. The good news is that thanks to insurtech service providers they can more easily integrate the latest insurance distribution trends. The key areas of focus are expected to be in developing chatbots to resolve queries whatever the scale, automated data capture tools to fuel personalization, marketing automation tools for personalized promotions, and finally 360 degree customer view CRM tools.
Topics: Digital Transformation