Insurance Software Build vs Buy: Could Speed to Market be the Decider?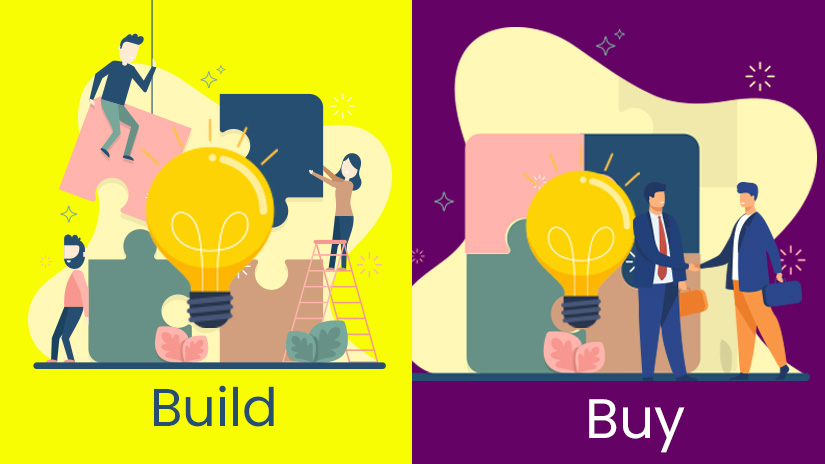 In the past, most insurance carriers believed that their software needs were unique and required a custom build. In any case, there were very few purpose-built and ready-to-deploy solutions on the market. It was a slam dunk then to build insurance solutions from scratch that would exactly fit an insurance carrier's special combination of processes, products, and channels - even if it took years to complete. Fast forward to the insurance industry today where a rapidly changing digital world is making things more complex. Insurance companies are having to decide a literal multi-million dollar question: Should they buy or should they build? Market dynamics require speed to stay relevant but packaged software could lose companies their competitive advantage. Is there a middle ground?
It is worth looking into some of the primary considerations insurance organizations have when upgrading their technology.
The seesaw effect between building and buying
Buying rather than building insurance software goes back to 1962 when IBM offered CFO to their insurance customers who had bought their IBM hardware. The strangely named Consolidated Functions Ordinary is the best-known, early bundled application program for the insurance industry. The cost of acquiring mainframe computers was so high that smaller regional insurers couldn't buy the hardware as well as develop the systems to run on it. IBM's solution to this also ended up creating history. The company launched the first commercially available life PAS that made it possible for the insurance industry to invest in mainframe architecture and move from paper processes.
Of course, using the same product did not provide insurers a competitive edge and slowly they began to build their own differentiators. With the onset of cloud computing, low-code platforms, and more modern programming frameworks like microservices architecture, the swing to the build side became stronger but with one big change. Insurance companies are not wasting precious resources on developing comprehensive insurance platforms, instead, they are only developing specific platform components that add value.
The savvier companies have decided they are insurance companies and not software companies and are turning to external insurtech insurance specialists to provide core platform technology. Vendors with innovative products like drone technology or telematics are now becoming external technology partners. Internal IT teams continue to support core business needs.
The hybrid model - the middle ground between buy and build
In the build vs buy analysis, it comes down to the fact that digitization is bringing in changes at too fast a pace for Insurance IT teams to keep up. While proprietary software might sound tempting, the risks are too high and the fear of software getting outdated after a long development cycle is real. Many insurers in recent years have poured in hundreds of thousands of dollars in custom IT solutions that did not measure up in the final analysis.
Insurtech partners are pure technology companies that come armed with Agile development processes in place, data analytic tools and a strong understanding of disruptive technologies fueling innovation. Today's insurtechs have extensive APIs that can easily integrate with other solutions in the market. This 'easy-speak' is the big advantage that allows the best solutions from different vendors to be integrated into one platform. Collaboration with such external firms is getting insurers the next level of advancement in 5 months to a year rather than five to ten years. This start to project completion spanning just months is also a business promise that SimpleSolve's delivery team stands by.
Most insurance companies are not "born digital", meaning they do not have large in-house teams with IT expertise in all modern transformational technologies. In such cases, the buy option becomes an easier decision to make. Of course, not all tech partners are equal. The preliminary evaluation is a critical step before teaming up with a technology partner who can provide you with a modern core platform that can integrate with components provided by other vendors.
For insurance carriers with a strong IT team, the hybrid development model is bringing in dividends. Packaged software might cover most of the requirements but you want to build customized components to add to it. For instance, you might not want to build your own postcode lookup mechanism when these components are already available but you might want to build your own customer portal as it is the face of your brand.
Whether you are an insurance carrier with a lean IT team or a giant organization with a fully established IT setup, one thing is for sure, the 'build from scratch' software route is no longer the space insurance carriers want to experiment with. External tech partnerships are here to stay.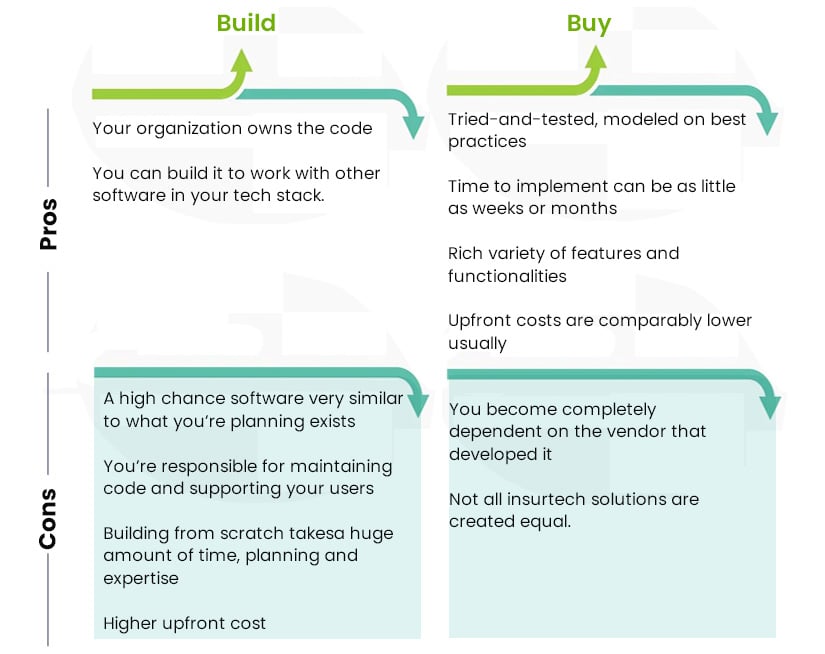 The necessity of partners in a fast-moving world
Selecting the right solution is obviously of paramount importance because the technology must also be future-ready. Insurtech in the United States is a crowded and competitive landscape with many well-established vendors, and highly configurable systems with costs ranging right across the spectrum. Choosing the right technology partner gives insurers the benefit of a supplier that has an ongoing investment in innovating features and functionality as driven by the market.
Insurance technology companies like SimpleSolve are empowering insurers, MGAs, and brokers with cutting-edge solutions to transform their businesses. SimpleSolve Inc's 20-year evolution in P&C software has forged its visionary approach to building insurance technology and products by 'APIfication' of business processes. This approach quickly crafts insurance solutions on demand and rapidly deploys them.
SimpleINSPIRE from the SimpleSolve stable is a modular platform that makes customizing risk management, underwriting and claims practices simpler with data-fueled, quick-to-market configurable settings. SimpleSolve's ecosystem approach is able to offer our customers 70+ game-changing APIs that can be made available on demand or rapidly composed or deployed. The unmatched ability helps customers to gain market leadership through innovative products that create sustainable value.
The solutions are
Pre-tested

Simple, easily installed and configurable

And at affordable costs
Leading to significantly improved agility without compromise.
Kickstart your journey by asking us for a demo.
Topics: Legacy System Modernization