5 Ways to Conduct Vendor Due Diligence When Replacing Your Core Platform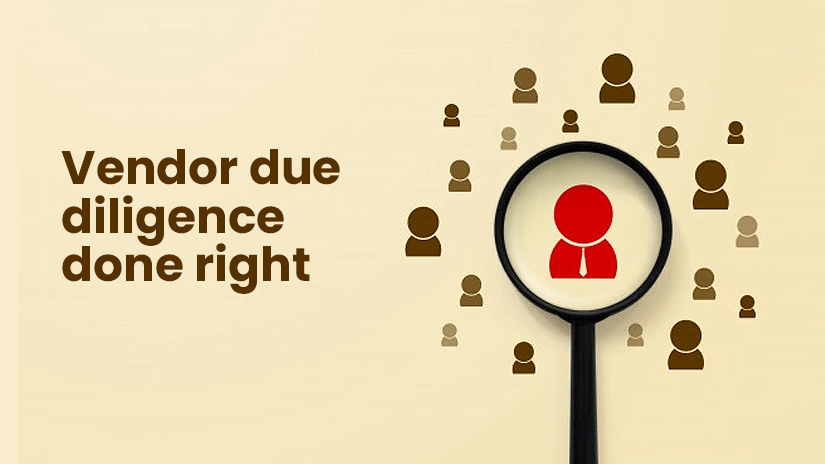 Modernizing your core platform can set you up for greater success, it is also undoubtedly a considerable investment and commitment to make. Unless U.S. insurance carriers conduct thorough due diligence to assess all potential risks and system capabilities, they might not be able to establish a profitable partnership with their vendor.
"Due diligence is going in and digging a hole in the ground and seeing if there's oil, instead of taking someone's word on it" - Joseph Bankoff, Partner, King & Spalding (IP & Technology Practice )
The due diligence process should be initiated right from the evaluation stage. Even if you are considering retaining your existing vendor, IT due diligence should be routinely conducted, especially before contract renewals to evaluate the benefits and costs.
Risks of overlooking IT due diligence
Insurance carriers in the USA are subject to numerous compliance and regulatory laws. The software that you use plays a major role in ensuring your company adheres to them.
Compliance check question: Is the vendor's compliance program documentation current?
You also run the risk of putting your organization and customers in danger from security breaches in vulnerable systems. Software instability can lead to data loss, leakage or contamination.
A security due diligence question: Has the insurtech company experienced any data security issues in the last year?
By conducting a thorough review of insurtech companies' credentials, compliance plans and offerings, carriers can identify partners that truly offer cutting-edge technology and deliver on their promise. It can help CIOs keep abreast of the latest developments in the ever-evolving IT landscape and ensure that the vendor chosen has proven system capabilities in these emerging technologies. Making an informed decision can help carriers and insurtech companies embark on a journey that is mutually fulfilling and productive.
---
Hand-picked for you: Ask the 5 Tough Questions of Potential InsurTech Company Partnerships
---
How to conduct a thorough and effective due diligence
Here are the top areas that you need to thoroughly investigate when evaluating an insurance software vendor.
The company's background and history
When doing an IT due diligence check of a vendor, consider the following parameters:
Insurance-specific focus: Insurance companies in America are looking for solutions tailored to the unique requirements of their industry. A standard ITSM software in all likelihood will not have the security and application features needed for insurance. This is why it's important to choose software developed specifically for insurance and by experts who truly understand the ins and outs of the industry.

Longevity in the industry: Longevity is a reliable indicator of the software's stability in the market. Many fly-by-night insurance software providers might not have the proven results required to help you determine whether they're a viable option. Additionally, the considerable experience that established players have means that they will be able to offer invaluable insights that can improve operational performance.

History of delivering projects on time and on budget: The technology partner's track record is a good way of understanding how your project will be implemented. It is not only the number of similar projects that they have implemented that matters but how successful they were on the time and budget parameters. When talking to the vendor's past clients, a good question to ask would be " What was the original timeline for your project, and did the vendor stick to it?'
Debt-free record: Along with longevity, a vendor's absence of debt is a good indicator of how successful their solutions have been and how reliable they are. Debt-free vendors virtually guarantee that the software will stand the test of time and that the investment in the solution is a safe option. This is why financial due diligence is just as essential as IT due diligence
A financial health due diligence question: Do the vendor's financial records show profitability for the last 2 years?
How vendor's technical stack matches up
The technical evaluation stage should include a complete walkthrough of the solution and its features. In this stage, the vendor should be able to assess all of your requirements and suggest the best solutions to cater to them. Each solution has its own strengths and focus areas, so this can help you understand if what the vendor offers is closely aligned with your business objectives.
Additionally, the technical stack and system capabilities that each vendor offers need to be compared to identify the solution that offers the most feature-rich platform at the most effective cost. It should be built on a state-of-the-art tech stack with a solid data structure to protect against cyber threats and any potential corruption of data.
A vendor due diligence question: What has been the change in your technology or product in the last 12 months?
How strong are the vendor's existing customer relationships
Past and current customers are some of the best sources of information about an insurtech company's credibility and proficiency. The vendor you finalize on needs to have a strong lineage of customers that are in the same field and are reputable names in the industry. You should also directly connect with some of these customers to understand how their experience with the vendor has been. Apart from questions related to the technology, it's also important to understand what the vendor's relationship with the customer is like. This will ensure that you partner with a vendor who has a customer-centric focus and will continue to offer ongoing support even after implementation.
A reputation due diligence sample question: Are references satisfied with the vendor's products and after-implementation services? Specifically what is the volume of consumer issues raised this year vs last year
Total cost of implementation
The allocated budget plays a significant role in shortlisting and finalizing a vendor. But there are often a number of hidden costs that can add up and exceed the budget. There are three ways to avoid this scenario with financial due diligence.
First, the vendor needs to be able to disclose upfront what the cost of implementation and the cost of renewals will be. Most insurtech companies offer a DWP-based renewal system, which can actually result in a low ROI in the long term. At SimpleSolve, we offer a standard non-DWP-based renewal cost that does not tie the cost of renewal to your business success. This ensures that you can plan your budget well in advance without any unforeseen costs.

Second, the total cost needs to be inclusive of updates and maintenance. In some cases, vendors might charge an additional fee for each update and either exclude maintenance or include a separate cost for it.

Third, as part of the financial due diligence, you need to be clear about the exact features and customizations you require. During implementation, there is often a tendency to add on new features, which might not necessarily be required. This 'scope creep' can significantly exceed your initial budget. Adding new features can also increase the implementation timeline, which again, increases costs. SimpleSolve invests time in the planning stage to ensure that the scope boundaries are clearly defined so the implementation can stick to the agreed-upon budget and timeline.
The total cost of the software needs to be proportional to the greater savings that can result from increased productivity and customer satisfaction. The vendor that can deliver the greatest ROI will ultimately be the best option.
IT system scalability
Insurance software should not just cater to your current requirements, but your future ones too. Given the investment in time and effort that insurance software entails, switching vendors every few years is simply not feasible. Because of this, you need to select an insurance software that has proven system scalability. As part of your IT modernization roadmap, list out the features that you plan on using in the future and check if the software offers them. This ensures that you build a strong vendor partnership that will support your company's growth journey.
A vendor due diligence question: Has the vendor conducted a business continuity test in the last year? Does their plan address interdependencies between different critical processes?
A comprehensive vendor due diligence exercise can help you prepare for every eventuality and avoid bumps down the road. This would mean that it should also cover vendor staffing - an area that is often overlooked. An important question that should be asked is about the employee attrition rate in the vendor company. You want to ensure a smooth delivery process.
The paperwork and time required to do thorough due diligence can be daunting but creating a checklist is important to get your organization set for success.
Topics: Legacy System Modernization