How to Make the Decision About a New Policy Platform and Insurtech Partner?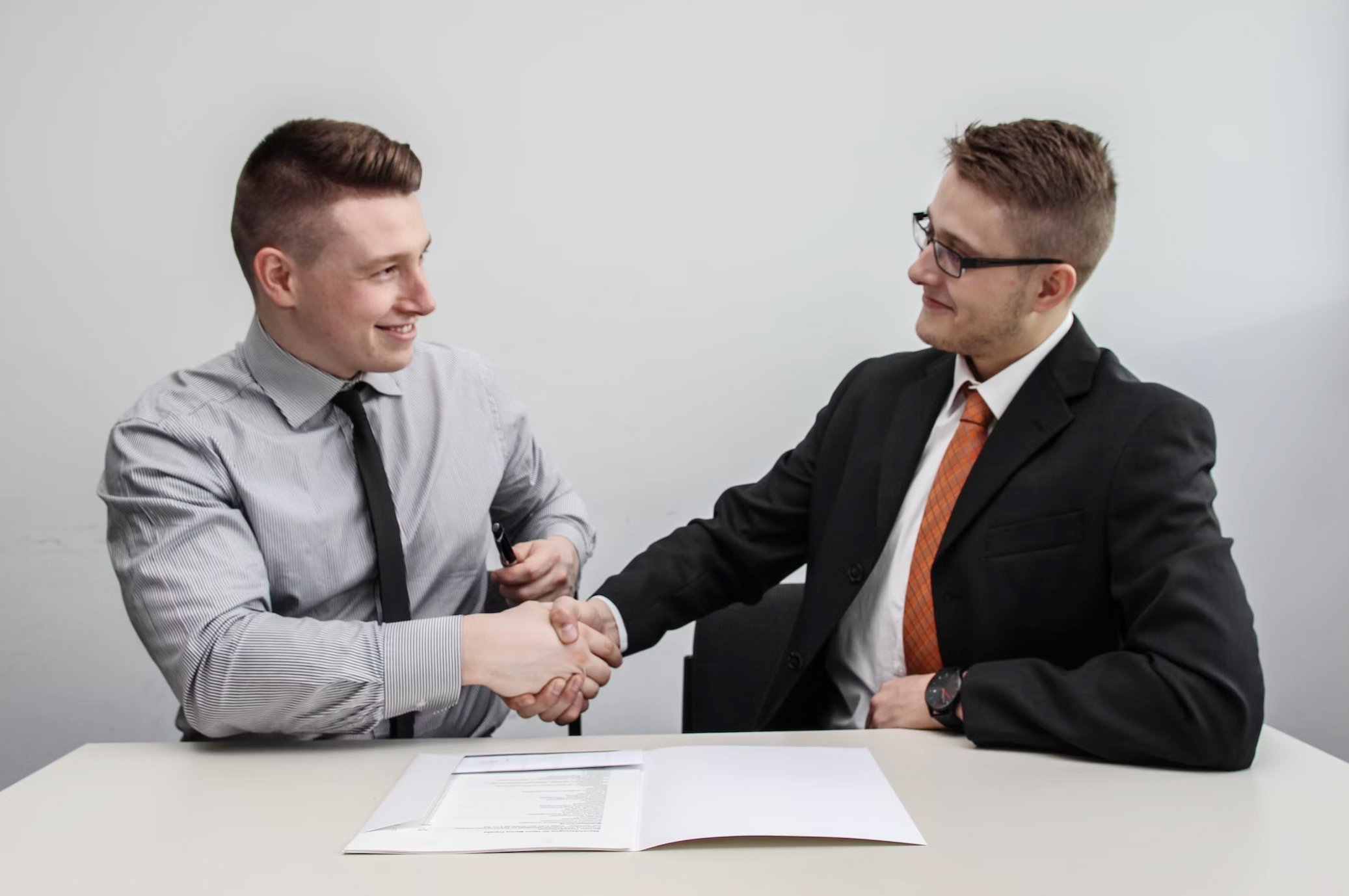 America is the leading insurtech hub in the world with over 1370 insurtech companies. Compare this with the UK which follows after the US, with 313 insurtech companies listed. Insurance is spearheading technological innovation, contrary to the widely held belief that insurance carriers have a conservative approach to integrating new technology. With so many insurance technology providers, how do insurance companies choose the right fit for their company?
As insurers are beginning to adopt new digital insurance platforms, the question remains, which insurtech vendor would be best suited to what they need? Oftentimes, companies have suffered through bad experiences with past projects and are wary of the complications that they might possibly be opening themselves to when deploying, integrating, and managing a new digital insurance platform. You are not alone in this perspective, a 2022 Deloitte Insurance outlook survey, says that the top 3 challenges insurance companies identified as their pain points are continued reliance on legacy systems, the complexity of implementation of a new platform, and during the transition realizing that the technology chosen is not mature enough.
Insights on how to safely negotiate the insurtech vendor selection process
Selecting your company's next policy administration system may be the most critical IT decision you will make. Not only will it impact every employee and customer for the next 10 years or more but it will also shape your business strategies and digital age possibilities.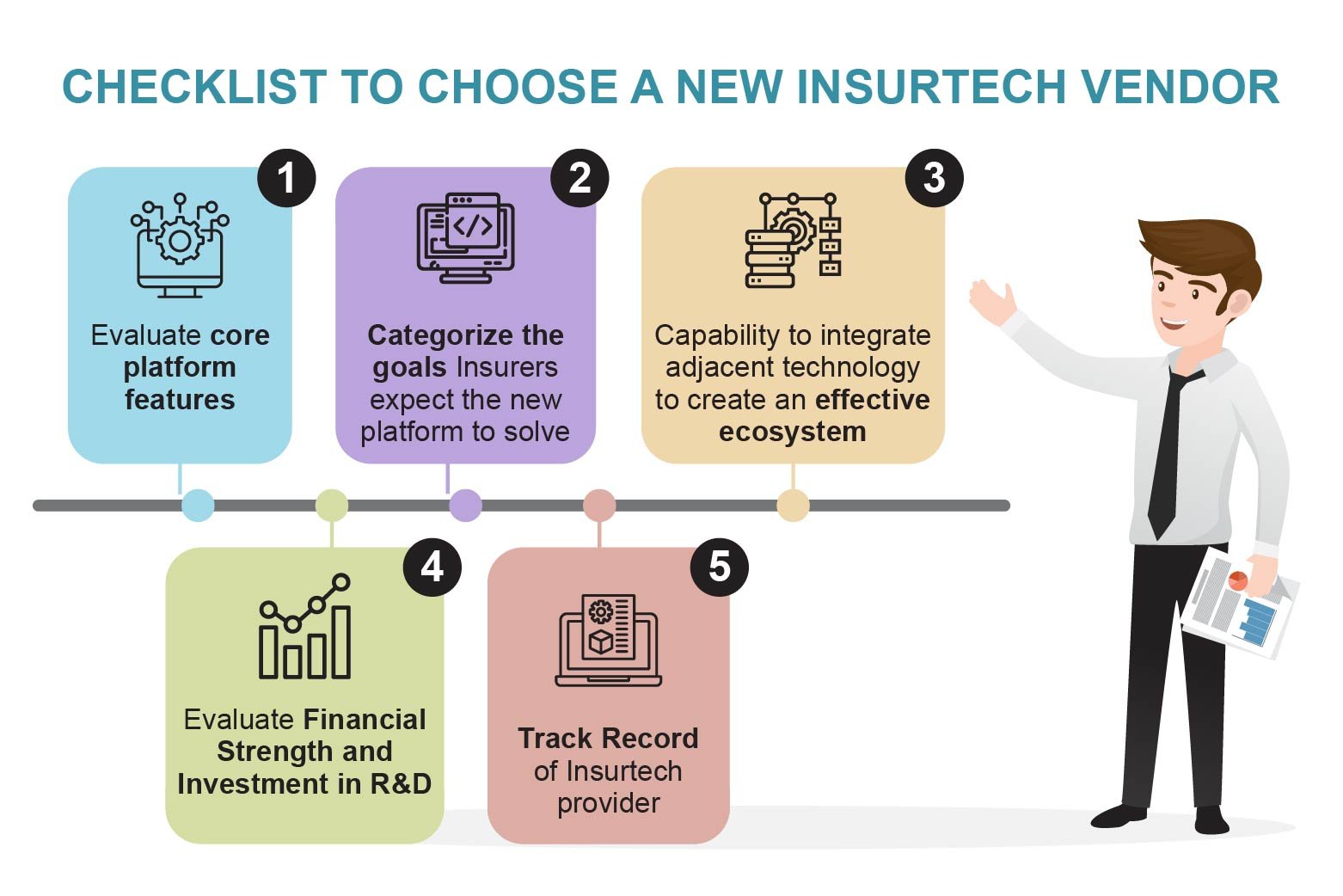 Is 'Big' more dependable when it comes to insurtech providers?
Insurance buyers are no longer correlating large insurance companies with the best products as they once did. This is because the larger the carrier the more bureaucratic it might seem. While this is not always completely true, the same perception is often kept in mind when insurers are considering a technology partner. Would a big brand name offer more stability though it might be offset by a more stolid culture? While many technology partnerships might seem appealing on paper, the implementation can get stuck in red tape because a larger company may not be as flexible as your insurance organization might require.
Small and mid-sized insurance companies might also not be open to the larger investment costs attached to the bigger insurance technology providers.
Zeroing in on an insurtech provider needs an evaluation of not only their core insurance platform strengths, time to implement, and cost but also if they have the capability of bringing together adjacent industries to provide an ecosystem that delivers greater value to the insurer.
Insurtech software vendors must fit the specific criteria of each insurance company
America has historically been the biggest tech incubator for new insurtech innovations. However, while transformative technologies are many, your company might not need most of them. For instance, Telematics and UBI might not be connected to the insurance products your company delivers. However, all insurance companies should be looking at an API-based infrastructure that will enable the development of new insurance products. Real-time quotes, AI chatbots, and other digital customer service tools might be on your priority list.
Every insurance carrier is looking for high-quality, scalable technology platforms that deliver on key performance criteria. Also, price and cost of ownership are deciding factors, particularly for smaller and regional carriers. Insurtech providers will demonstrate that their solution delivers on all these fronts. However, what is even more pertinent is whether your specific criteria find an answer in the solution being evaluated. This requires your organization to categorize the goals they expect the new platform to solve.
Insurance technology has evolved to the extent that you might be surprised at how some insurance solutions are built for problems that you don't expect to be solved. Of course, it is always the icing on the cake if you get even more than what you asked for - That has often happened when our SimpleSolve team has gotten into discussions with insurance carriers.
Once big-picture goals are categorized into the non-negotiables in a modernized policy management platform, it is just as important to know what you could want in the future. These become aspirational goals that define how scalable your new system will be.
Once the big-picture goals are set, it is time to zoom into your existing operations at a microscopic level. Map out every process from customer acquisition, to underwriting and policy generation to billing and claims adjudication. Company leaders will often know what the existing problem areas are. However, it is essential to get the data to back it up to understand the extent of the problem. This process will identify the labor-intensive tasks and workarounds and help your organization to identify the functionality and automation needed in a new policy management software solution.
---
Also Read: Ask the 5 Tough Questions of Potential InsurTech Company Partnerships
---
All this will go into the drafting of your new RFI. The Request for Information will guide your vendor selection committee to ask decisive questions. These could be 'How will feature 'X' scale our business? "What is going to drive down operational costs" and other such.
Evaluate your vendor aside from their technology
During the vendor evaluation process, your team might be more focused on the features and functionality of the new system. Once implemented, you are committed to 10 to 15 years on average with the new policy administration system. This also means a long-term relationship with your technology partner/vendor. Your organization needs to do due diligence keeping this association in mind.
Track record in your line of business:

Your ideal technology vendor must fully understand the lines of business you manage. A good track record and past experience in P&C insurance platform implementation will help them to anticipate unique demands and possible roadblocks. An important question to ask here is what is the largest number of policies their system has handled till now.

Financial strength:

Have any of your potential platform providers been unwilling to share audited financial records? Consider that a red flag. It is also important to know what their current investment is in R&D. You need your new policy management software to grow in strength and not get obsolete.

Innovation:

Technology in the last few years is changing rapidly. Chandramouli Subramaniam is SimpleSolve's Chief of Innovation - this in itself highlights the importance the company gives to insurtech innovation. Many features of the SimpleINSPIRE policy management platform are unavailable elsewhere.

Consider a proof of concept:

Testing your scenarios or use cases on their demo system, on-site, is a conclusive way of knowing that the decision you are making is benefiting your organization.
Having separate systems for different lines of business can end up recreating the same silos as in your legacy applications. Most insurers prefer to modernize one line of business at a time and end up selecting a solution based on short-term needs. You could consider insurance software that can consolidate all lines of business. It is vital to evaluate how its tech stack will enable integration with third-party systems. By going for a consolidated system, you will get the advantage of reduced integration points with a technology that supports and grows with you.
---
Also Read: Making It Connect: Pairing Core Function Solutions From Multiple Vendors
---
Most businesses are also worried about potential business disruption when moving over to a new platform. In our implementation process for SimpleINSPIRE, we manage risk by building a system that is self-contained and independent of systems in operation. This handles all project risks and minimizes any business risks during rollout. If you are in the market for a new insurance platform or even testing the waters, drop us a message.
Topics: Legacy System Modernization