How the Advancements in AI are Transforming the Property Insurance Market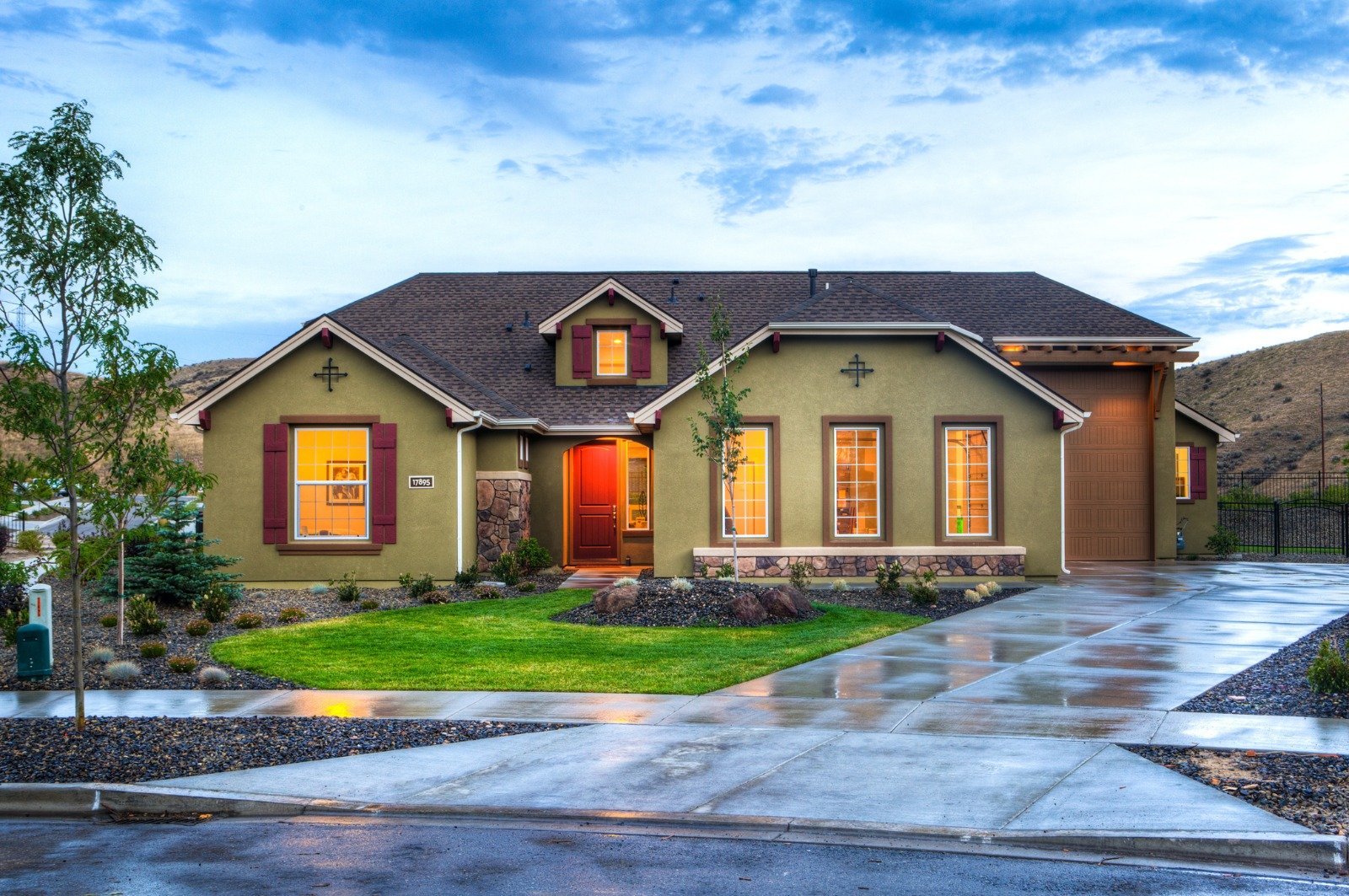 Property risk assessment relies on the best available property characteristic data. Many insurers still rely on methods that use a statistically based valuation but the average value leaves a policyholder with a premium that is either too high or too low. Others arrive at risk assessment using data powered by artificial intelligence and machine learning imagery. This is more in line with a risk-based pricing trend that has proven to be much more accurate.
Top home insurance companies understand the need for AI not just to improve their risk management but also to improve operational efficiency and offer more personalized products to customers. The consumer today expects personalization and property insurers are responding to it.
A survey conducted by the National Association of Insurance Commissioners (NAIC), in 2020, found that over 50% of insurers reported using predictive analytics. Additionally, many insurers are exploring or implementing AI solutions in other areas, such as claims processing, risk assessment, and customer service. As AI insurance models continue to advance and demonstrate their value in the insurance industry, it's likely that more and more P&C insurers will adopt AI solutions to improve their operations and better serve their customers.
A few instances of the practical application of AI in property insurance coverage
A variety of AI insurance models have reached a matured stage of development and include computer vision, language recognition (Natural Language Processing), and deep learning. These AI models are finding increased adoption in improving customer interactions, creating individualized policies, streamlining assessments, and bringing intelligent vision into every aspect of claims and mobility.
These are a few examples of AI implementation by a few of the top home insurance companies in America:
Allstate, one of the largest home insurance carriers in the USA, uses AI in several ways. Allstate uses AI to process claims quickly and accurately, reducing the time it takes for customers to receive payments. Allstate claims that Virtual Assist (using conversational AI) has reduced the time it takes to complete a claim by 50% and has improved customer satisfaction by 7%. The largest publicly held personal lines insurer by revenue, says that it also uses AI models to help insurance agents quickly acquire knowledge about insurance products.
AI is not just for large insurance carriers, solutions from insurtechs like SimpleSolve Inc. are bringing AI to mid-size carriers as well. Their SimpleINSPIRE platform integrates an AI chatbot, Tara into its policy management system as a virtual assistant to agents.
Allstate also uses AI insurance algorithms to analyze images of property damage submitted by customers to assess the extent of the damage and estimate repair costs. The insurer is also fighting insurance fraud with AI, particularly since increased access to digital means makes it easier to file fake claims. The property insurance company also uses AI in risk assessment to analyze data on weather patterns, crime rates, and other factors to assess the risk of insuring properties in specific areas.
State Farm, another major property insurer in the USA, uses AI in a variety of ways. One of them is conversational AI chatbots to help customers with common questions and issues. It also uses image recognition from drones, similar to Allstate, to analyze images of property damage to assess the severity and estimate repair costs. The risk assessment team uses AI algorithms to analyze data to arrive at property insurance coverage. Information such as age, construction materials, and location are a few parameters used to assess the risk of insuring them.
Nationwide, another property insurer that also offers a range of other financial products and services has been using AI for quite a while. A survey earlier conducted by the insurance carrier among its customers revealed that 74% said having a claim handled quickly is important to them. This led Nationwide to integrate AI to process claims quickly and accurately, reducing the need for manual intervention, particularly for high-volume and low-value claims.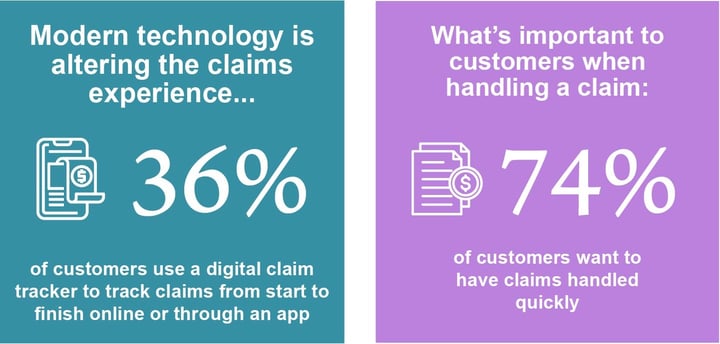 Apart from AI in Risk assessment, Nationwide uses conversational AI virtual assistants to help customers with a range of tasks, from managing their policies to filing claims. Customers still want to decide how to interact with their carrier, because while many are comfortable with digital claims tools, they still want to reach an actual agent if they need to, AI models need to recognize when to make this switch.
---
Also Read: 6 Ways Machine Learning and AI are Transforming the Insurance Industry
---
3 Ways AI will impact insurers in the property risk market in 2023
To understand how AI technology has evolved is first to understand the expectations of a modern insurance customer. While they need everything fast, it also needs to be personalized. To deliver such an experience would be impossible without AI. The more common artificial intelligence applications are automated underwriting, claims processing, and fraud detection. They are new advances in AI technology that are seeing AI move into new areas.
Explainable AI is Responsible AI
While customers want fast and authentic personalization, insurance carriers are wary of turning over some of their decisions to AI technology. Today explainable AI (XAI) is addressing these apprehensions by providing transparency and if needed a tiered human review at any stage. This is driving up confidence among insurance carriers who have adopted AI often as part of their modern core insurance platform.
Explainable AI is a response to regulations that there should be traceability of decisions to ensure unconscious bias or discrimination does not creep in. Customers for instance want an explanation in case their claim is denied. AI cannot exist as a black box when it comes to insurance applications.
Personalized risk assessment is made easier through data analytics and IoT
Property insurance companies are putting their massive amounts of data to optimal use by using AI to craft individualized policies. This involves collecting data about a policyholder's property, such as its location, age, and construction type, as well as the policyholder's own personal data, such as their credit score and claims history. By analyzing this data, insurers can accurately assess the level of risk posed by each policyholder and adjust their premiums accordingly.
Some property insurance companies offer usage-based insurance UBI, which allows policyholders to pay premiums based on their actual usage of their property. For example, if a policyholder only uses their vacation home for a few months of the year, they may be able to pay a lower premium than someone who uses their home year-round. This type of personalization is made possible through the use of data analytics and Internet of Things (IoT) devices, such as smart sensors and monitoring systems.
Pricing catastrophic risks
Insurers are required by law to maintain a certain level of financial stability, which means that they must be able to pay out claims when they arise. In areas that are particularly prone to catastrophic events, insurers may find it difficult to maintain this level of financial stability, as the frequency and severity of claims can be high. We have seen state governments step into coastal areas with increased taxes and increased insurance premiums to cover the risks. In Florida, for example, the state-run Citizens Property Insurance Corporation provides coverage to homeowners who are unable to get coverage from private insurers.
However, not all home insurance claims are to do with such catastrophe insurance covering disasters. For instance, Travelers Insurance uses AI to track and capture weather data and predict how many hail claims they should be prepared for.
Private property insurers are now evaluating Catastrophe (CAT) modeling that uses AI-assisted calculations to estimate potential losses in the event of a natural or man-made disaster. AI can monitor weather patterns, natural disasters, and other events in real-time, allowing insurers to quickly assess the impact on their policyholders and respond accordingly. AI can help to automate claims processing, enabling insurers to respond faster to policyholders and reduce the administrative burden of handling large volumes of claims.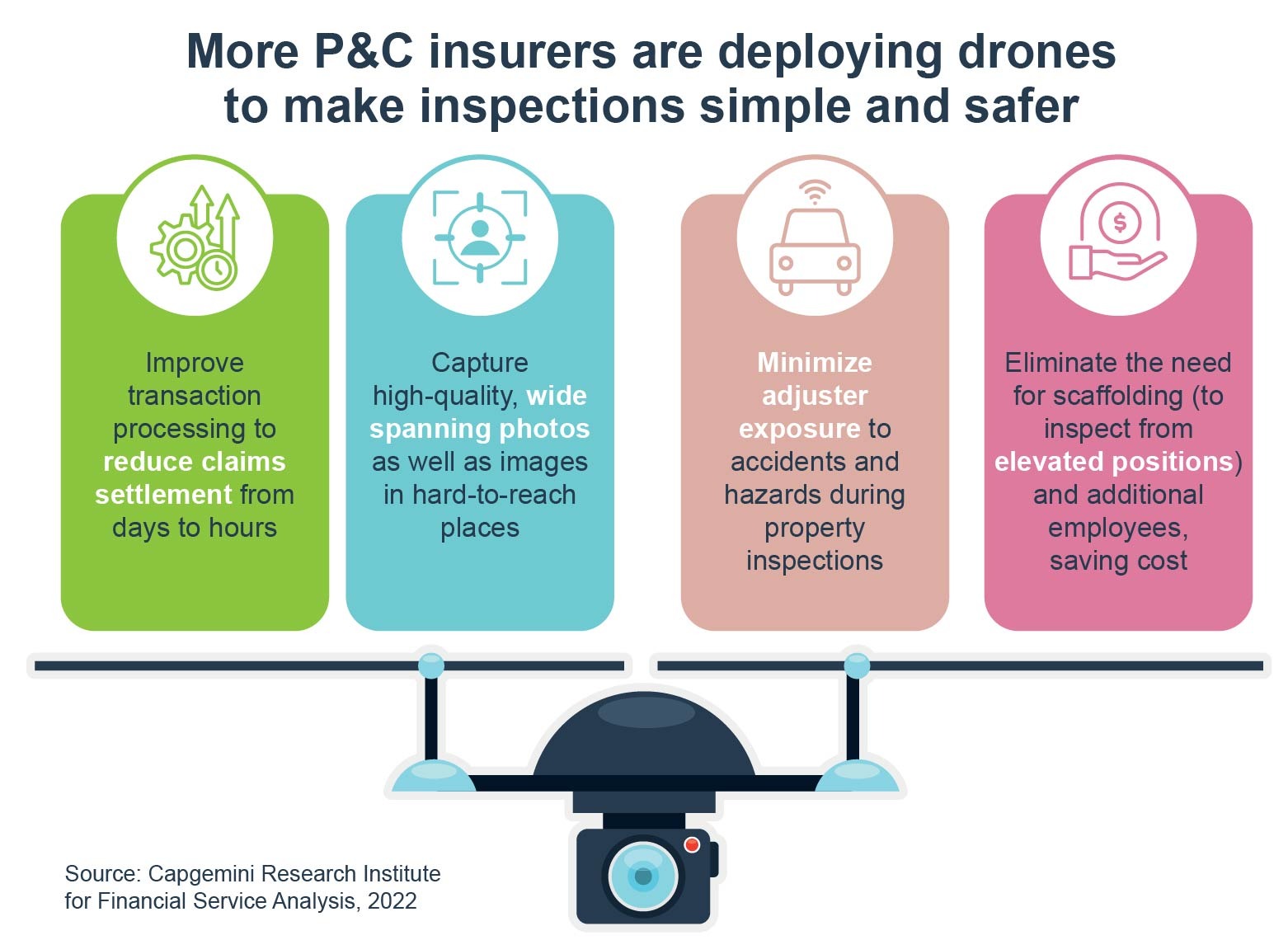 More talking drones (flying craft with fitted sensors) are being deployed by property insurers and are feeding massive amounts of geographical data. Insurance companies are using computer vision to draw information such as a roof's age and condition and the risks of damage in case of hail or wind. This underscores the need for advanced precise AI modeling to handle the influx of data that will enhance existing lines of business and open up new product lines.
Finally…
2023 will see more P&C insurers outsourcing their AI development. Advanced technologies like data science, NLP, and predictive analytics hinge on technical resources that are a smaller specialized subset of the technology specialists. We are hearing of in-house projects that have stalled even after two years of development because of the inherent complexities. These pressures will make insurers wake up and look for technology partners that can translate AI into meaningful solutions that use tested methodologies with an overlying layer of customization for a property insurer's specific needs.
Topics: Artificial Intelligence in Insurance