SimpleSolve and Intellagents Partner to Bring AI Tools to Insurers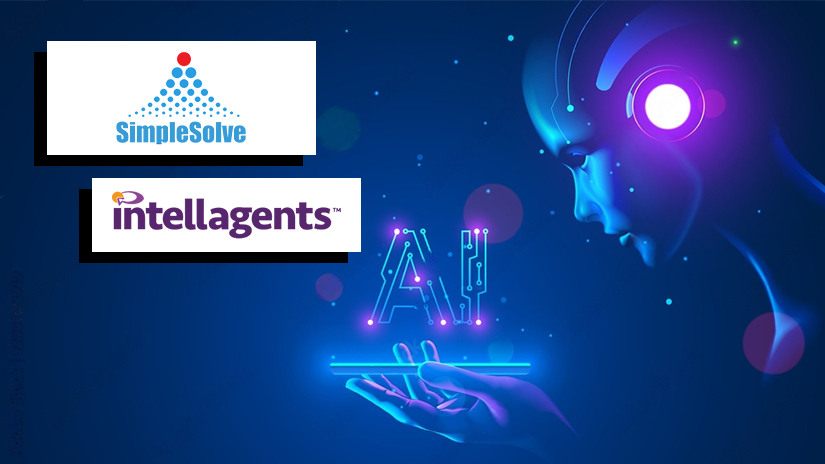 Insurers are looking to speed up AI Integrations and increase human-machine collaboration in their core insurance platforms. To be successful, they need accurate and precise data, for instance in improving their policy and claims management processes. Implementing AI technology effectively will set insurers apart from their competitors. However, they need solutions fast. This is why SimpleSolve's partnership with Intellagents AI platform brings into its core insurance solutions the benefits of intelligent AI-driven insights that simplify the integration of new ai technology.
While Intellagents' industry-leading data accuracy and breadth of solutions make the company a clear choice as SimpleSolve's AI partner, there are multiple advantages the partnership brings to our insurance clients.
What is the Intellagents advantage?
No single software can solve every technical challenge thrown up in the insurance industry. The power of many different connected "best-in-class" capabilities is creating an integrated ecosystem that is advantageous to insurers. It is improving profitability, tightening workflows and improving customer experience. Much of the insight that drives this change is because of AI technology working on vast datasets that are then coupled with powerful modern core insurance platforms for one integrated solution.
The advances in AI 2.0 gets closer to human intelligence and bring end-to-end process intelligence, which is far beyond AI 1.0 that heralded simple task automation of enterprise. In this scenario, we are excited about the AI capabilities that Intellagents (FatBrain AI) brings to our customers. The FatBrain AI model is based on predesigned AI solutions that enable any organization, whatever its size, to harness data and new tools for more accurate decision-making and do better business. The Intellagents AI platform when integrated with the SimpleSolve Core Suite - SimpleINSPIRE for P&C insurance will instantly create a single dynamic API interface to access data in one affordable, easy-to-manage ecosystem. It cuts down the complexity of building additional integrations to multiple data access providers.
Intellagents is part of the Fatbrain AI family - They have leveled the competitive playing field for smaller and mid-sized insurance companies by making it easier to integrate robust AI solutions that were previously reserved for the industry behemoths.
Intellagents API management platform brings together 70+ capabilities or connectors that insurers can integrate within minutes into the SimpleSolve insurance platform and create their own unique solutions. The no-code intelligence technologies work across channels - including client engagement, risk scoring, claims management, and fraud mitigation - to improve speed, personalization, and agility.
Intellagents solutions are SOX, GDPR and HIPAA compliant and are built to meet the strictest requirements of compliance specification from insurers.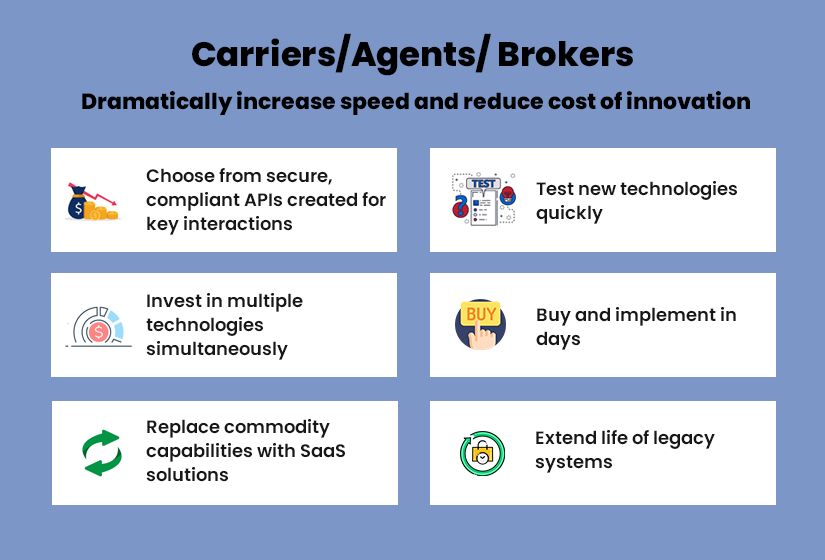 Ecosystem Capabilities of SimpleSolve's Insurance Platform
76% of global leaders say that siloed systems will be phased out in the next 5 years. It is an indisputable fact that partner ecosystems are vital to an organization's capabilities, irrespective of the industry. Insurers are no longer looking at point products, they need end-to-end solutions. For a modern core insurance platform to succeed, it requires broader capabilities supplemented with ecosystem partners.
All policy admin systems providers (PAS) will tell you that they have APIs that support integration. Of course, it goes without saying that if it is cloud-enabled then applications will be able to integrate. The difference lies in how transformative the integration will be. SimpleINSPIRE (from SimpleSolve) has the additional competitive edge of having ecosystem business management capability - the exact fit for insurance companies transitioning from legacy platforms. Bringing together tried and tested AI technologies from partners like Intellagents translates to a high level of confidence from our clients because it comes with the assurance that they are working with proven secure applications from a trustworthy vendor. Insurers need not go through the complex process of due diligence, but rather focus on how solutions from third parties can be customized and made unique to their needs.
SimpleINSPIRE has been built on a platform designed for change, collaboration, openness, and speed. It offers core services like underwriting, billing, policy renewals and issuance, accounting, a high degree of automation and integrations with several tech entities. We are a one-stop shop for insurance carriers, and MGA/MGUs whether they need a full software suite or a single component.
How the partnership works - integrate once, innovate as much as you want
Creating new products, new experiences, and new markets are usually accompanied by long drawn-out implementation requirements. In today's market, insurers need to be at the top of the game and for that, time should not be a deterrent.
There is no function in insurance that is not exponentially improved with the adoption of AI and machine learning. While SimpleSolve's core platforms bring in a high level of automation of traditional processes, new capabilities are being brought in by integration with multiple AI products that target specific functions in the insurance value chain.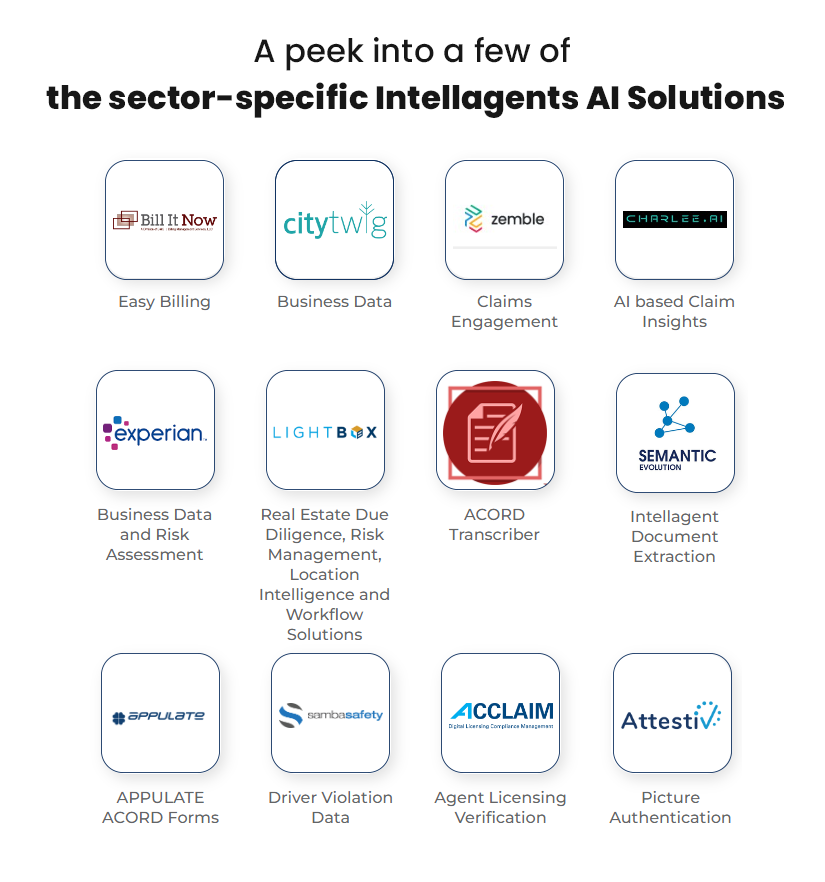 A peek into a few of the 70+ interfaces from Intellagents' AI insurance platform
AI in actuarial analytics to reduce churn - Spyglaz is an AI tool built for proactive customer retention. AI and machine learning algorithms can predict not only when an insurer could lose a customer but also a recommendation for influencers and key retention levers. These insights are also integrated into live customer conversations - the exact time when the customer service team can get pointers that can guide their discussion and prevent a lapse. Insurers have seen an improved loss ratio with an almost 24% reduction in variable costs.
AI in Risk Selection: The need for accelerated underwriting (AUI) in the digital era is an urgent priority. Predictive analytics executes linear and non-linear algorithms simultaneously in order to deliver accuracy in risk pricing. Intellagents AI platform provides a buffet of options such as PinPoint Predictive which can deliver individual risk and engagement behavior. The AI tool develops proprietary data that enriches over 90% of personal records to enhance risk selection, LTV, and claims processes.
AI-based claims insight: The Charlee application is like an 'early warning system' that is able to identify hidden patterns and red flags that will expedite the claims process. It can also predict on a 0-100 score the probability of a claim heading to litigation. In personal auto claims, it has proven to reduce claims processing time from 6 to 2 weeks.
AI for tackling Insurer bad data: This is a problem that insurers have faced through the years. Bad data is defined as captured data that is either inaccurate, missing important information, duplicate, or not compliant with federal or local regulations. EGGHEAD's AI algorithm provides insurers with a ready-to-hand solution that can scan data, classify it and create new guardrails around it. Such an advanced solution was previously a stronghold of only tech giants, this AI tool democratizes access.
While these solutions are relevant across the insurance industry there are other sector-specific AI tools. For instance, in the auto insurance sector:
JD Powers provide at code level every vehicle's spec details such as safety, performance, and sensors

SambaSafety provides updated driver violation data
In the property insurance sector
Precisely API integrates residential as well as commercial property information to aid in decision-making. Its geocoding and address identification eliminates errors while maintaining accuracy.

True Flood Risk uses AI and computer imagery to determine a property's lowest elevation point and the risk of it taking on water in a flood or tidal surge.

HazardHub is the only 3rd generation as well as a leading provider of property hazard data and risk scores for the US property market.

Betterview provides aerial property view imagery together with a geospatial predictive analytics platform.
In commercial insurance, Experian among its numerous solutions provides business credit reports. FatBrain AI solutions provide dynamic peer understanding to realize business outcomes.
Intellagents platform integrated with SimpleSolve solutions creates a single subscription-based interface to multiple AI tools that simplify the whole process. Talk to us today to find out more.
Topics: Digital Ecosystems