Why Insurance Ecosystems Have Taken on New Urgency in The U.S.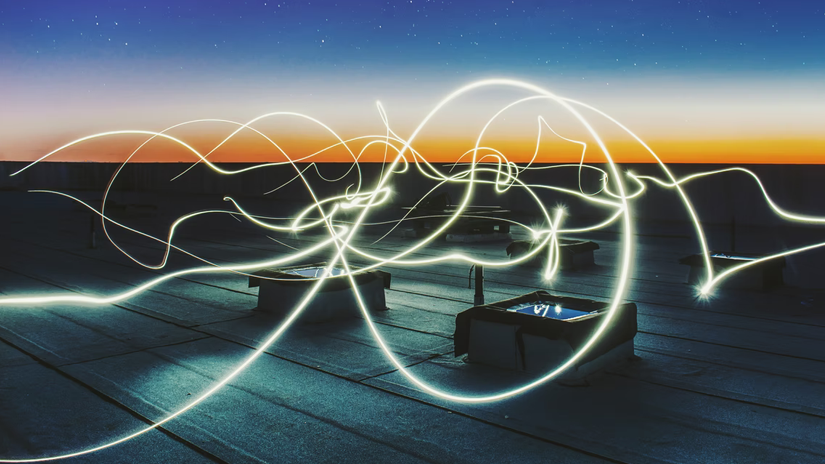 Insurance companies have been increasingly compelled to develop an outside-in strategy. Companies are no longer distinguished just by the strength of their products, but also by the superiority of the customer experience they offer. Customers today want to feel personally looked after - they expect the representatives they're interacting with to know their complete history and preferences. Most importantly, they're not willing to wait. Countless customer surveys have shown that speed is possibly the single greatest distinguishing factor when it comes to customer experience.
In traditional insurance set up, where different departments often work in silos, this can be challenging to deliver. An insurance agent, for example, needs to contact the carrier for a quote. If the customer is facing an issue with their claims request, the representative needs to forward the request to the claims department, who might not have enough background in the customer's interactions to adequately resolve the issue in time. When there are so many moving parts within insurance, how do you tie them all together? The answer lies in a strong API strategy to build open insurance ecosystems.
Emerging ecosystems in insurance
The digital transformation wave that has taken over insurance, demands an interconnected environment. Simply put, a big range of departments, devices, and platforms need to be able to talk to each other. Information needs to be easily pulled from various sources and transferred to required locations, but without compromising on the security of the data.
Using open insurance ecosystems, insurance carriers can automate several processes, improve intra-organizational collaboration and introduce innovative new features. These capabilities will become increasingly important in a post-COVID-19 world where consumers expect 24x7 service, instantaneous responses, and accurate solutions.
An API strategy can help build a cohesive ecosystem that brings together three vital components of the insurance journey:
Carriers: Customers today have a number of ways to discover the most suitable policies and quotes without having to depend solely upon agents. Third-party aggregator sites often get real-time quotes from a number of carriers through open APIs. This allows customers to access a range of policies faster and helps carriers improve the discoverability of their services and products.
Agents: APIs can significantly boost agent productivity and reduce average handling times. Since APIs pull data from various sources into a single view, agents now have a single window to look up information. Cloud-based technology also facilitates remote work environments, something that has become essential today. A series of open APIs can connect chatbot conversations, customer records, policy information, etc so agents can access a unified view instantly, whenever they need it and from wherever they are located.
Customers: With the rise in the demand for self-service options, insurance companies need to find secure ways of letting customers access their account information without compromising the security of the database. APIs can build a secure ecosystem to achieve this. Additionally, newer features like usage-based insurance and telematics require the use of APIs.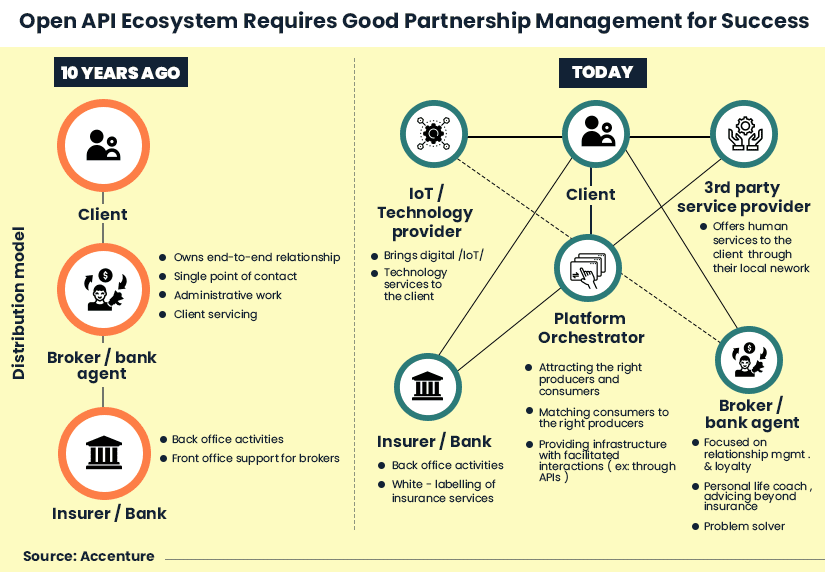 Why are ecosystems becoming central to the success of carriers?
APIs aren't a new concept - they've been around for more than a decade and most insurers are using them in some form or the other. So why is there a sudden resurgence in their popularity? For one, COVID-19 had acted as a catalyst for digital transformation within insurance. Customers are increasingly relying on digital channels over one-on-one interactions with agents, and APIs can facilitate this widening ecosystem.
Even if carriers were using APIs to support certain internal processes in the past, they now need to focus on customer experience-focused applications. This could mean developing a new API strategy with features like premium calculators, self-assessments, chatbots, self-service options, and more. In an increasingly digital world, insurance carriers who do not modernize quickly stand to lose their competitive advantage. Additionally, ecosystems built with cloud-based technology are more cost-effective to develop and maintain than traditional legacy systems. This makes them a more sustainable option for CIOs who have to deliver innovative features within a tighter post-pandemic budget.
---
Related read: The Rise of Open API Ecosystems is Making Insurance Processes Bullish
---
Building robust open insurance ecosystems
Insurance ecosystems are complex environments to create. With the huge array of open APIs available, insurers need to decide what kind of open APIs they are going to incorporate, what features they plan on introducing, and how they are going to develop them. There are three main points insurers should take into consideration when building a digitally native ecosystem.
Insurtech partners can offer industry expertise
The insurance industry, not only in the US but also globally is exploring new technologies and partnering with insurtech companies to build new tools. Many insurance carriers are wanting to catch up with the giants by speeding up their existing digital strategies. Collaborating with insurtech partners can provide carriers with a competitive edge to dominate today's digital market.
Building an ecosystem from scratch is often not financially viable as it requires a significant amount of time and human resources. Partnering with an insurtech company, on the other hand, allows carriers to leverage the considerable expertise these companies have at a much lower development cost. Since the insurtech companies have worked with numerous insurance firms, they can recommend the most suitable open APIs that can enhance agent and customer experience. They also have the immediate resources on hand to deploy the solutions in a faster time, ensuring that carriers can retain their market position.
Create an environment that supports digital innovations
Building an API ecosystem isn't simply about the technical aspect of introducing integrations - it's also about building a conducive environment. Even with the most advanced features, customers aren't going to see the value until your website or app has a well-designed and intuitive user interface. Additionally, depending upon the technological maturity of your infrastructure, you might need to audit and strengthen your cybersecurity measures. APIs often mean opening up your data environment to allow staff, partners, and customers to gain access. This invariably means that you're also opening yourself up to a security issue unless adequate measures are taken. To prevent such an attack, carriers need to audit their data storage infrastructure, transmission channels, and authorized parties.
---
Would this interest you? 5 Ways to Conduct Vendor Due Diligence When Replacing Your Core Platform
---
Use customer insights to guide implementation of features
Technology for technology's sake can offer little to no benefit to your end-users. APIs open up a huge range of digital innovations, but not all of them might be relevant to your business or audience. Insurers must define what sets them apart from the competition and get their buyer's needs aligned with the sales and marketing functions. Market insights can offer detailed information on exactly what your customers are looking for and gaps in existing solutions that you can fill. This ensures that you develop bespoke solutions for your customers that can truly edge out the competition.
Ecosystems built with cloud-based technology are uniquely suited to deliver the agility, flexibility and convenience that the market today demands. As insurance carriers gear up to meet increased competition from tech giants and the challenges of remote work, it's clear, building a secure and integrated ecosystem will be vital to their growth strategy. It is good to remember that the shift in customer demands means that it is no longer possible to wait for the traditional five-to-seven year roadmaps.


Topics: Digital Ecosystems