The Digitization Journey for Small Commercial Line Insurers in the U.S.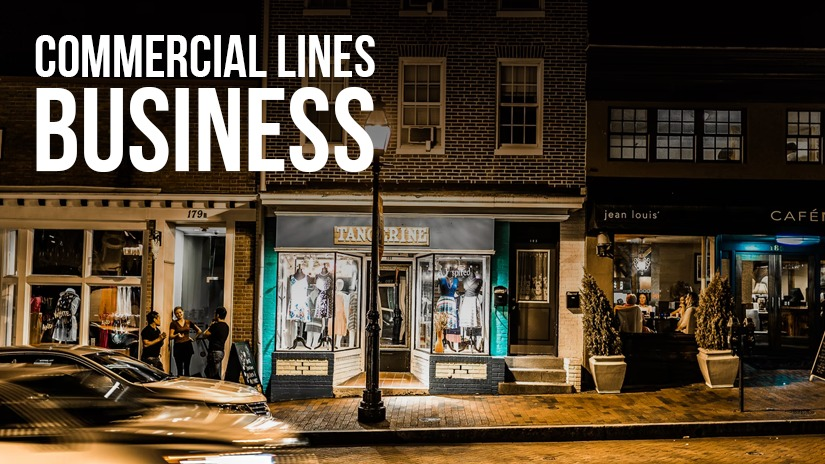 77% of commercial line agencies say that they would send more business to insurers who quoted the fastest. This is from a 2020 Digital Connectivity Adoption Survey of 2.700 agents and insurers. Digitization in insurance is no longer limited to personal insurance and customer-facing products. In 2021 and going into 2022, the spotlight has shifted to include commercial lines insurance.
The last year spurred the demand for mobile, flexible solutions in commercial line insurance and is probably why 90% of surveyed commercial insurers from the same survey said that they would prefer to receive agent submissions in a digital way. To increase the ease of doing business, commercial line insurers must automate distribution and servicing.
Small and mid/large commercial lines are specifically focusing on the digital transformation of core systems.
The entry of insurtech into commercial line insurance
Insurtech companies have already made several inroads into personal insurance and appear to be gaining popularity in commercial insurance as well. A study by McKinsey revealed that 39% of insurtech companies are focused on commercial line insurance and a major portion of those cater to small and medium enterprises. While insurtech can often be seen as a threat to established insurance companies, the opposite might actually be true. Insurtech companies could help commercial insurers open new touchpoints, digitize several stages of the value chain, drive innovation and capture new niche markets.
Key digitization benefits in commercial insurance
Given the scale and complexity within commercial insurance operations, most insurers are still dependent on manual, human intervention for a number of tasks. It opens them to a higher margin of error, makes it difficult to scale, and impacts their ability to act proactively. Insurtech solutions can resolve many of these challenges. These benefits are in 5 major areas and small commercial line insurers stand to gain big through digitization.
Digitizing customer experience in commercial insurance enables a frictionless buyer journey
Commercial insurance remains a very competitive landscape because of the steep buyer commitment and the number of insurance players on the market. Digital ecosystems are emerging as one of the most powerful ways for buyers to discover and partner with insurance companies. These ecosystems are usually portals that display insurance policies, coverage, and premiums from a number of players on a single web page. These aggregators connect to insurers through APIs and automatically reflect updates to policy details. Modernizing core platforms allow them to be interconnected with digital ecosystems.
From a buyer's point of view, open ecosystems negate the need to manually compare various insurance plans before opting for the most suitable one. For insurance companies, these ecosystems unlock a huge volume of customer data that can be used to detect trends, proactively identify risk and expand coverage options.
Improve efficiency and accuracy of underwriting for commercial insurers
With greater digitization in insurance comes larger sources of data that will undoubtedly be a huge asset to underwriters. Manual processing is often a high-touch, siloed process and within the course of that journey, underwriters lose visibility into a lot of customer data. This impacts the accuracy of their decision-making.
Collaborative cloud-based technology, on the other hand, increases the visibility and usability of data. Insurtech solutions use APIs to pull company data and present a complete picture to underwriters. AI applications can also detect common risk or fraud patterns and provide alerts. This enables underwriters to process higher volumes of policies while maintaining profitability for insurers.
Increase personalization in policy plans and coverage
Commercial insurance policies are largely static, standard plans. However, businesses are demanding plans that are customized to their unique industries and requirements. Many businesses themselves are in a state of flux at the moment and are hesitant to invest in long-term insurance policies. Commercial line insurers, therefore, need to pivot and offer custom features like on-demand insurance and instant coverage.
A robust insurtech solution can tie together various customer touchpoints, from marketing to underwriting, and generate customized pricing plans and coverage for each business based on their use case.
Increase the percentage of STP in transactions
Increasing the percentage of straight-through-processing (STP) transactions can significantly increase an insurer's operational efficiency and ability to scale. Insurtech solutions can digitize every customer touchpoint, making it simple for small businesses to purchase policy plans with little to no human agent intervention. SimpleSolve, for example, offers a self-service portal that helps you build a low-touch, high-yield journey for customers.
Introduce new digital products and features in commercial insurance
Digitization in insurance is helping insurers offer innovative new services and products that can differentiate them from the competition. Adjusters, for example, are using drone technology and IoT technology through mobile apps to improve the accuracy of inspection in P&C insurance for businesses. Insurtech solutions can also collate data from various sources using IoT technology and environmental data and perform advanced analytics functions through AI and ML to infer risk patterns. This not only reduces costs for insurers but also promises a greater speed of service for businesses. It is a win-win situation for all.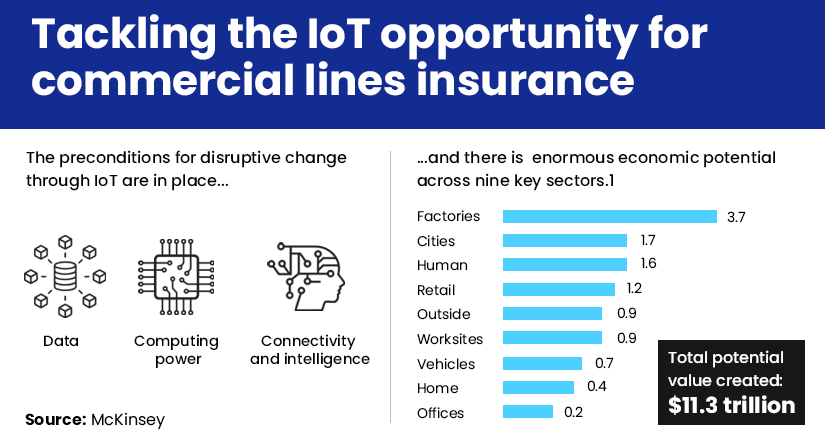 Charting a digitization plan for commercial insurers
Digitization can seem like a daunting undertaking, but it doesn't mean you have to upheave every aspect of your current technological infrastructure. Insurtech solutions can be deployed at specific stages of the insurance value chain, making them a faster and more cost-efficient solution. In general, there are three stages to onboarding an insurtech partner:
Goal-setting: What does your insurance company hope to get out of digitization? This question is fundamental and ensures that you find a partner that is best suited to your needs. The objective that you set at this stage will determine the features you choose to implement and the KPIs against which you measure the success of the solution.
Research: With the number of insurtech solutions available on the market, it's essential that you do your research into what each of them offers. The biggest names do not always mean the most efficient solution. Choose a partner that fits into your budget and whose strengths match up with your pre-defined requirements. For instance, SimpleSolve offers non-DWP-based renewal plans and customizable modules that make it the perfect solution for small commercial line insurers.
Onboarding: Onboarding can be done after a pilot phase to test out the solution. You should have a dedicated onboarding and project planning team to ensure that the entire operation takes place with no hitches and within the stipulated timeline.
Commercial line insurers can offer buyers and internal staff a more enriching experience through intelligent technological solutions. Onboarding the right insurtech partner can future-proof commercial insurers and help them gain the most advantage out of nimble technology-driven solutions. Talk to our experts today to discuss our solutions, implemented for top insurance carriers in America.
Topics: Digital Transformation