Best-of-breed vs Integrated Systems: Which is Right For Your Company?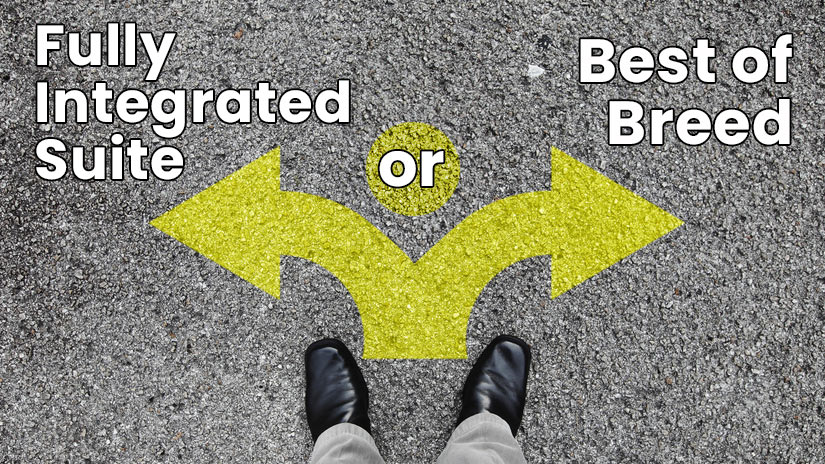 When insurance carriers start on the path to deciding on a new solution, invariably the debate begins on whether to go for best-of-breed software or an integrated do-everything solution.
In case you aren't clear about the two; a best-of-breed system combines components from different vendors, each focusing on a separate functional area. An integrated system provides many applications encompassing core functions. It has a common database and also provides a consistent interface since it comes from the same vendor.
So which is the better solution? There is no right answer to that. It depends on your organization's needs. It is comparable to whether your company prefers an open floor plan or a more structured layout with cubicles. Both are popular but companies choose to go for one over the other based on what works best for them.
The best-of-breed approach
The best-of-breed approach came about as a response to the problems created by the monolithic legacy applications that were not able to cope with modern requirements. Best-of-breed works on the principle that no software can ever be the 'master-of-all'. Instead, this approach recommends purpose-built systems that offer specialized functions. This means that an insurance carrier would have to purchase separate software from multiple providers for each application area.
Your policy administration software could be from Vendor A, client relationship management from Vendor B, and billing and insurance claims from Vendor C. You now have the best-in-class specialized software for each function and they need to be integrated with each other. As simple as it sounds, talking the same language might have its problems.
Here are the pros and cons of best-of-breed systems:
Pros of best-of-breed
Discover even more capabilities: The tighter focus on one core function means that best-of-breed systems often cover more facets of the problem than you need the tool to solve. While these additional capabilities are the key differentiators of the product, it comes with hidden costs. Every additional tool brings with it additional infrastructure requirements that cause a 'burdensome bloat' and make businesses vulnerable to technology-induced disruptions.
Easier to implement and update: A stand-alone software solution addresses a specific core function, which in-and-of-itself may be quick to implement. System updates to that product, such as security patches or adding additional features can usually be rolled out with minimal effect on other systems unless the new features affect the other core systems requiring coordination of these changes.
However, if you are modernizing your claims management software with a best-of-breed solution, it is likely that your policy management system has already been upgraded or there is a plan to do so in the near future in your company's strategic roadmap. So, when you add the time for implementation of each core application and the time needed to make all applications from different vendors to "speak intelligibly" to each other, the shorter implementation time advantage might not hold up.
Best-of-breed expertise: Since these solutions are unique, the software will have experts with vast experience in that specific solution. This translates to rapid innovation that uses the latest technology. By distributing responsibility to different providers, it can also lower the risk of vendors going out of business for any reason and the consequent lack of development support.
Cons of best-of-breed
Increases complexity: Insurance carriers may have to deal with multiple systems, multiple databases, and multiple vendors. Multiple solutions will also require managing multiple license agreements and more time spent managing different relationships with different providers
Integration challenges: To ensure compatibility and communication between different best-of-breed modules will require middleware and patches to 'translate' information between disparate systems. This is one of the downsides of best-of-breed vs integrated systems. The ability to share data across systems with ease should be evaluated when deciding on integrating a best-of-breed solution.
The burden on end-users: Leveraging multiple best-of-breed software can raise a number of issues when it comes to end-user training. Since each stand-alone system has its own interface, there is no consistency across systems. Staff training costs need to be added to the cost of the best-of-breed solution. In addition, as the company adds new best-of-breed modules, the total cost can overrun the cost of an integrated solution by a big margin.
---
Also Read: Technology is at its best when it is invisible
---
Power of Integrated systems for insurers in The U.S.
As insurance systems become more complex with the need for digital transformation, the all-for-one ERP suites might no longer be the answer. Integrated systems, though, have evolved and today will handle all core functionality while still providing flexibility to easily integrate with any third-party solutions.
Integrated platforms provide for multiple applications, each accessing a common database. All modules have a similar look and feel and therefore a consistent user experience. In short, it is like the open floor office system that allows for open communication, It can still have some closed office cubicles that can require a separate swiping system to enter these spaces aka third-party solutions.
When evaluating an integrated platform, these pros and cons will keep cropping up.
Pros for integrated insurance solutions
Pre-integrated components: Consider this, if you replace just one function with a new system, it will very likely reveal the limitations in the older components. However, if you upgrade with multiple pre-integrated components (that can be customized where needed) it will truly be a modernized end-to-end solution that will include infrastructure, service components as well as support, and regular upgrades. Provided that you shop wisely.
Microservices architecture: The more efficient integrated solutions, structure the collection of services as independent microservices. Application microservices are loosely coupled and Independently deployable, which means they are reusable when more features and pages are added to the system.
Risk exposure is less: An integrated software suite acts like an umbrella bringing together all functions related to the insurance domain. This has the additional benefits of making data management much easier since it is centralized. and the database is not siloed, it gives real-time visibility and enables AI and automation more easily.
It also makes security inherent to all the applications, while also providing the capability of integrating with other external security systems like LADP. SimpleINSPIRE tech stack, has a microservices architecture that ensures all data elements subject to PII compliance are encrypted not only during transmission but also when stored. It also uses OAuth authentication through web tokens.
Cons of an integrated solution
May not offer a full range of capabilities: A comprehensive product suite will not have the same exhaustive features compared to a best-of-breed solution that has to only address one specific need. However, just ask yourself how often have you used the much-touted additional features in your top-end phone? It's good to have but not really necessary. An organization will need to evaluate if they need all the additional features provided by a best-in-breed solution against high cross-department interoperability.
Slightly longer implementation time: An end-to-end integrated insurance software can take upwards of 18 months, depending on the complexity of the modules. Many of the integrated solutions can also cost upwards of a million dollars make it cost-inefficient for smaller companies. Though this is not always true.
Solutions like SimpleINSPIRE' Insurance Application Suite is both feature-rich, integrates with new age disruptive technologies, and takes less than a year to implement while costing is in 6 figures
Integrated product suites cannot do it all: No matter how complete a suite is, it cannot do everything and there will be a need to integrate. A system that can integrate and collaborate in an open ecosystem will have the edge. In fact, trends show that many organizations prefer to adopt an integrated systems strategy and fill in the gaps with best-of-breed software
---
Also of Interest: Why Technology Helps You Compete with Insurance Giants?
---
Finally, which approach will your company benefit from?
Answering a short questionnaire might help understand what might work best for your organization based on the company's goals.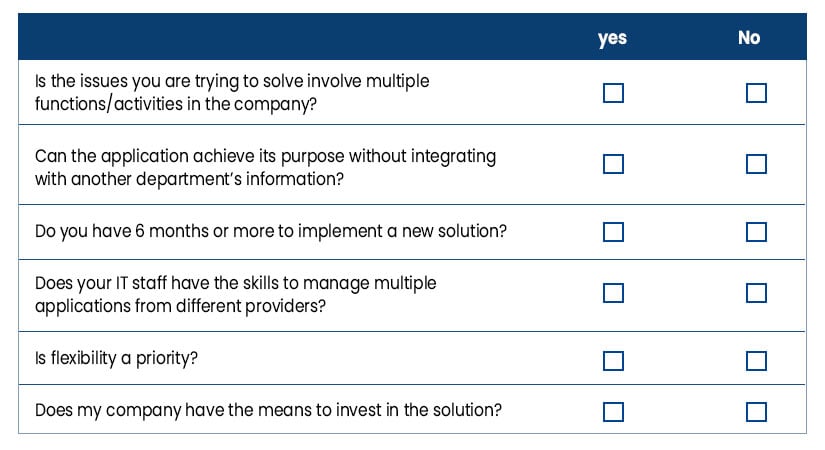 If you have answered 'NO' to a majority of the questions then probably best-of-breed might be the right choice. On the other hand, if you have answered 'YES' then an integrated solution might be what you should invest in.
Ask for a consultation with our experts to get an additional perspective.
Topics: Legacy System Modernization