10 Ways Insurers Win with SimpleINSPIRE's Core Insurance Platform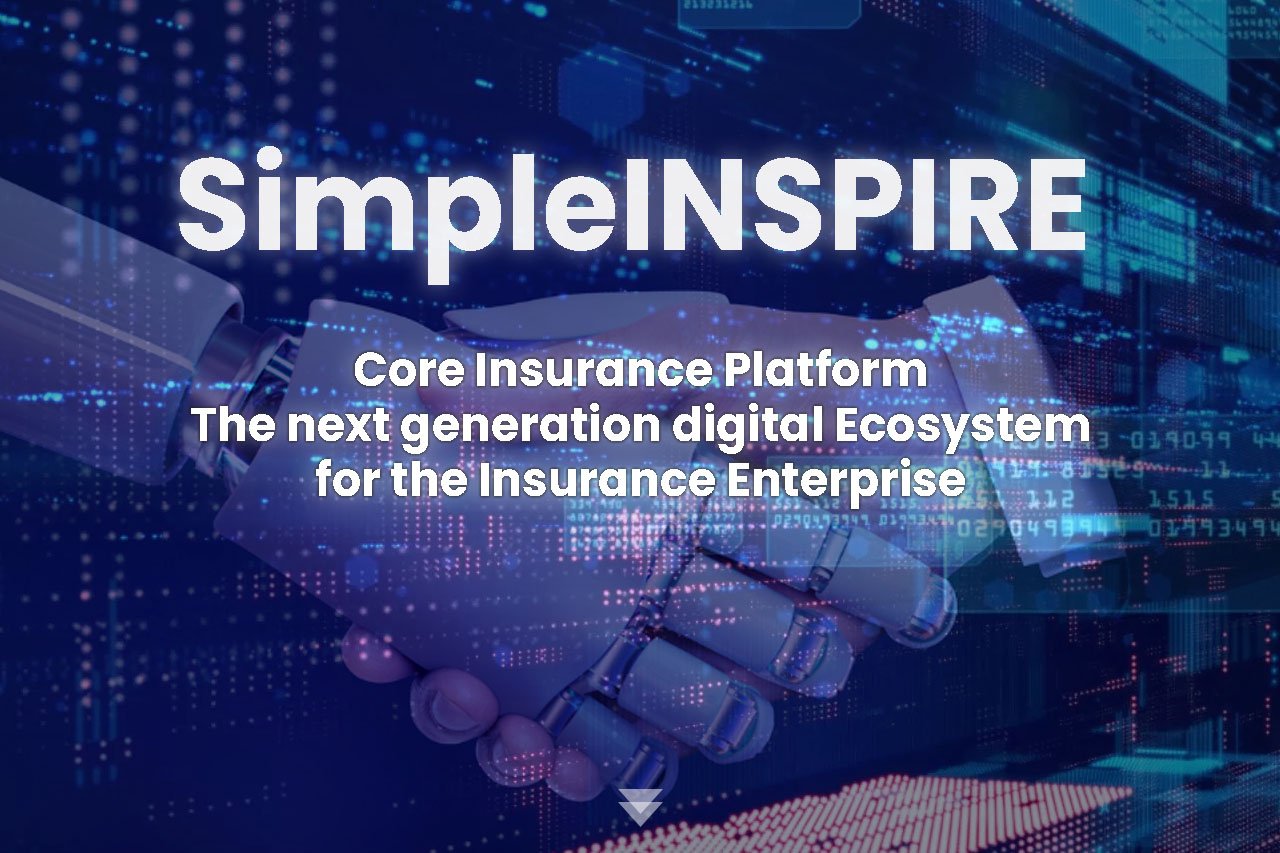 SimpleINSPIRE Insurance Platform and Tara, your AI Assistant are redefining insurance operations. We unravel the seamless fusion of technology and innovation, a fusion that accelerates your journey toward operational excellence and revenue augmentation. Embark on a transformative expedition that promises not only insights but actionable strategies to reshape your insurer's landscape. Welcome to a future where the potential of SimpleINSPIRE insurance software and the intelligence of Tara shape your insurer's success story.
The advanced capabilities of SimpleINSPIRE that set it apart
1. User Efficiency - Reduces Average Handling Time
SimpleINSPIRE's streamlined user interface and its lightning-fast navigation tools empower insurance professionals to access critical information in record time. This agility translates to a remarkable 30% reduction in average handling time per task. Imagine your team processing 30% more policies and serving clients more promptly, resulting in a potential revenue increase of up to 25%.
2. Automation of Manual Work Processes
SimpleINSPIRE's automation prowess saves up to 60% of the time spent on manual tasks. Automatic renewals and real-time claims coverage verification boost client satisfaction by 25%, resulting in a 12% increase in customer retention. This translates to a potential revenue growth of 30% through repeat business.
3. Email Integration - Send Emails with One Click
Experience the power of integrated email capabilities that enable agents to send tailored messages with a single click. Clients respond 50% faster to personalized communications, leading to a 15% increase in policy renewals and new sales. This rapid engagement accelerates revenue growth by up to 20%.
4. Powerful Search Capabilities
SimpleINSPIRE insurance software's cutting-edge search functionality empowers employees to locate critical data 3 times faster. With an impressive 98% reduction in time spent on data retrieval, your team dedicates an extra 2 hours daily to high-impact revenue-generating activities, resulting in potential revenue growth of 15%.
5. Voice-to-Text (Dictation)
Revolutionize data entry with voice-to-text technology, reducing manual typing efforts by a staggering 80%. Insurance professionals regain 10 hours per week, allowing them to focus on expanding their client base. Experience a potential revenue increase of 18% through more client interactions and policy sales.
6. Full Integration to Avoid Duplicate Data Entry
Witness the power of seamless integration across modules, eliminating redundant data entry and errors. This efficiency surge leads to an impressive 95% reduction in errors, allowing insurers to avoid losses amounting to 10% of annual revenue. Enjoy the peace of mind that accurate data brings to your bottom line.
7. Client-Centric Customer Management Features
Elevate customer experiences with personalized services, resulting in a remarkable 40% increase in customer loyalty. Satisfied clients are 3 times more likely to recommend your services, leading to a 20% growth in referrals. This organic growth boosts your revenue by 25% over time.
8. Designed for the Cloud at an Affordable Price
Harness the scalability of SimpleINSPIRE's cloud-based architecture that adapts to your business needs. With a cost reduction of up to 30% compared to on-premises solutions, you invest more in innovation. Witness a potential revenue growth of 10% by reallocating saved funds into strategic growth initiatives.
Embrace the cloud-based advantage with various infrastructure scaling options. SimpleINSPIRE empowers you to scale efficiently, aligning with your evolving needs and ensuring optimal performance.
9. Unmatched Scalability
SimpleINSPIRE's insurance platform has a proven track record that speaks volumes - over 15,000 quotes processed daily with minimal performance degradation. Your business growth has no limits, as SimpleINSPIRE seamlessly manages your transaction volumes.
10. Data-Driven Insights
Tap into the integrated Insurtech Ecosystem within SimpleINSPIRE, unlocking precious customer insights. Empower your business decisions through data-driven strategies that align with your growth objectives.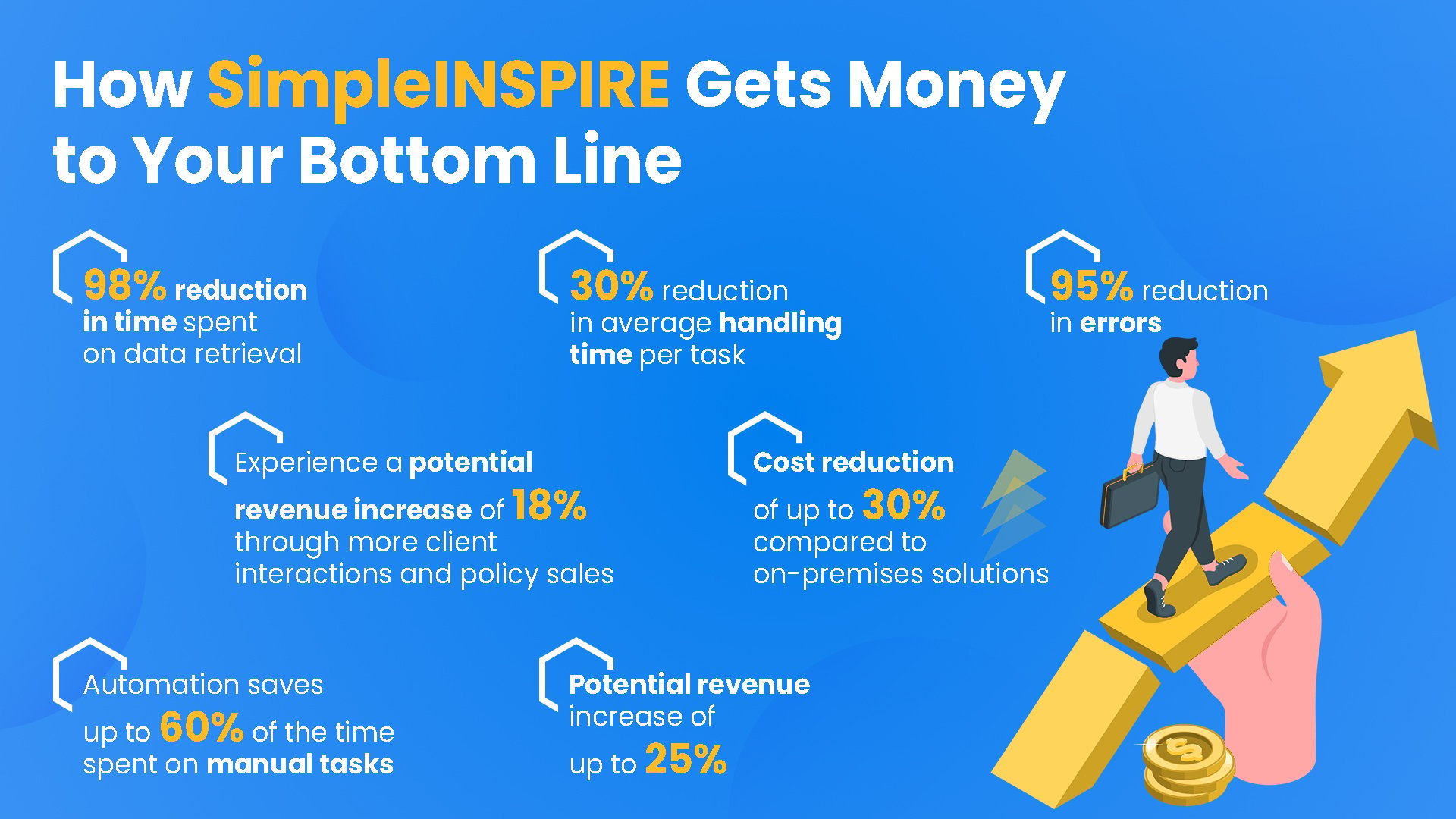 With SimpleINSPIRE's feature-rich platform and these remarkable results, insurers can truly wow their stakeholders by boosting operational efficiency, customer satisfaction, and ultimately, their revenue streams. If these proven data-backed features for revenue growth are not enough, there is even more to the SimpleINSPIRE insurance software platform.
Unveil the Power of Tara, Your AI Assistant
Imagine an assistant who knows you, knows your system and anticipates your needs. Tara seamlessly navigates the intricacies of SimpleINSPIRE's insurance software, delivering context-based interactions that bridge the gap between users and technology. With Tara, routine tasks become automated, data becomes insightful, and customer interactions become effortlessly personalized.
Meet Tara, your intelligent AI assistant bot, ready to revolutionize your workflow:
Contextual Understanding and Integration: Tara, your smart BOT, seamlessly integrates with SimpleINSPIRE, holding a deep understanding of your location within the system and your identity. As an AI-driven assistant, Tara adapts to your needs, providing context-based interactions that enhance both user engagement and system functionality. Additionally, Tara can trigger external Insurtech services, effortlessly integrating their outcomes within SimpleINSPIRE for comprehensive insights.

Intelligent Decision Support: Leverage Tara's prowess in external data integration and historical data analysis for advanced decision support. Tara even shines during New Business (NB) quoting, identifying upsell opportunities that augment your revenue potential.

Natural Language Interaction: With the power of natural language processing (NLP), Tara can be empowered to provide user training and answer common business queries, serving as a valuable self-service resource for application users.

Omni Channel Quote Ingestion: Experience the future with Tara's omni-channel quote ingestion. Seamlessly boost quote volumes across channels, ensuring an unparalleled experience for both customers and producers. By automating routine tasks, your human resources are unleashed for impactful endeavors.

Enhanced Workflow Efficiency: Embrace a new era of efficiency with user-centric features, automation capabilities, and a streamlined workflow function. Reduce or eliminate manual tasks during policy lifecycle management, allowing your team to focus on high-value activities.
Tara, coupled with SimpleINSPIRE's unmatched capabilities, propels your insurance operations to new heights. Engage with AI-driven precision, leverage an integrated ecosystem, and experience high performance that anticipates your business's future needs.
SimpleSolve's PEAR Delivery Methodology
Introducing SimpleSolve's PEAR (Partnership, Expertise, Accountability, Results) Software Delivery Methodology, an unwavering commitment to your carrier's triumph. With us, you gain more than just a solution; you gain a full-service vendor partner dedicated to enhancing your success at every turn.
Partnership and Accountability
We don't just deliver software; we forge partnerships. At the forefront of SimpleSolve's PEAR Methodology is our commitment to your bottom line We shoulder the responsibility for your carrier's success, collaborating with you at every step. The scope is meticulously defined through our robust Discovery process, leaving no room for surprises. Our partnership is fortified by fixed-price contracts, ensuring transparency and accountability.
Expertise and Precision
Screens aren't just built; they're perfected. Before a single line of code is written, screens are meticulously prototyped to guarantee user satisfaction. Our experts leverage their proficiency to create intuitive interfaces that align with your business needs. Rigorous testing is an inherent part of our software delivery process, ensuring a flawless transition from development to User Acceptance Testing (UAT) and ultimately, seamless production implementation. This is why we brand SimpleINSPIRE as an insurance platform developed for insurance carriers by insurance experts.
Results and Value
We do the heavy lifting so you can focus on your core business. With SimpleSolve's PEAR Methodology, we enable you to direct your efforts toward growth, innovation, and value creation. By alleviating the operational burden, we free up your resources for strategic initiatives that drive revenue and elevate your market standing.
Implementation Track Record
Our track record speaks volumes of our software delivery methodology. With countless successful implementations, our pride stems from your achievements. The synergy between SimpleSolve's PEAR Methodology and your carrier's goals, results in seamless, on-time, and on-budget projects. Our history of consistent delivery sets the foundation for your continued success.
Comprehensive Annual Support
We're invested in your long-term prosperity. SimpleSolve's PEAR Methodology extends beyond implementation; it includes unwavering annual support. We take ownership of the entire ecosystem, ensuring its health and vitality. Unlike others, we do not nickel-and-dime our customers; we stand by our commitment to excellence. Any defects that arise are resolved at our cost, upholding the integrity of your operations.
Experience the synergy of SimpleSolve's PEAR Delivery Methodology and your carrier's vision. Elevate your success, fortify your partnerships, and embark on a journey where accountability, expertise, and results amplify your impact in the insurance landscape. Get a demo of SimpleINSPIRE today!