Why Every Carrier Needs an Intuitive Customer Self-Service Portal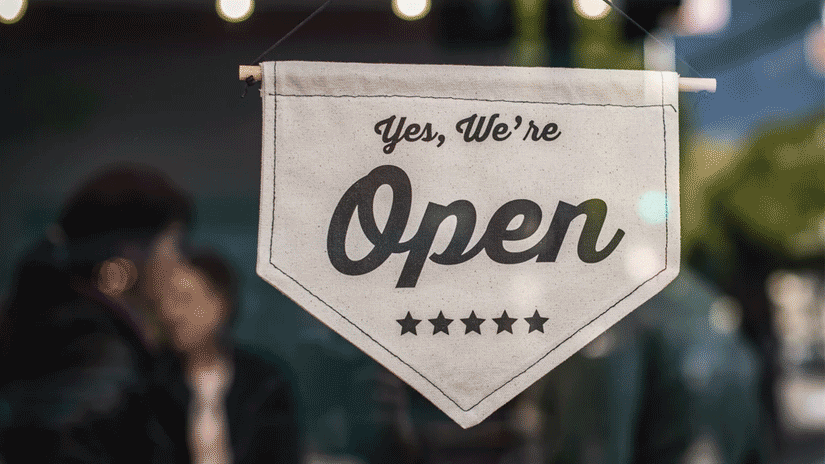 Lives are getting busier and customers want answers at the touch of a few buttons. People have grown even more tech-savvy and self-reliant and the pandemic has made even the most reluctant customers more accepting towards online channels. From banking to the foodservice industry, anytime, anywhere personalized customer service is an expectation and no longer a good to have. Insurance is no exception. Many insurance carriers have already made great progress in setting up self-service portals. One of them is Geico and by reports, they get 50% of new customers in certain lines through self-service capability.
Developing a customer self-service portal is not a one-time effort. A superior client experience requires continuous learning and feature upgrades to make customer journeys more intuitive. If you haven't yet started on this path, here are the reasons why you should.
---
Hand-picked for you: Advantage of Implementing Insurance Mobility in Bite-Sized Pieces
---
Why self-service matters
We all recognize the ease of self-service from our own life as consumers. We don't need the numbers to know this is true but here it is: Over 70% of customers in the age group of 25 to 40 (Gen Y or millennials) want the ability to apply for or renew policies digitally. Insurance carriers that provide this capability usually see fewer customers skipping to the competition. Gen Z, of course, as they become an important segment, will expect it.
Our lives are getting more hectic and most of us do not find time during a busy workday to shop or search for a suitable policy or take time off to file insurance claims. We would prefer to handle this in our spare time and that needs our service providers to be accessible 24/7. This is only possible through self-service portals.
Capgemini Financial Services Analysis made a study of overall customer behavior, pinpointing the need for the insurance sector to follow the same trajectory in meeting customer expectations.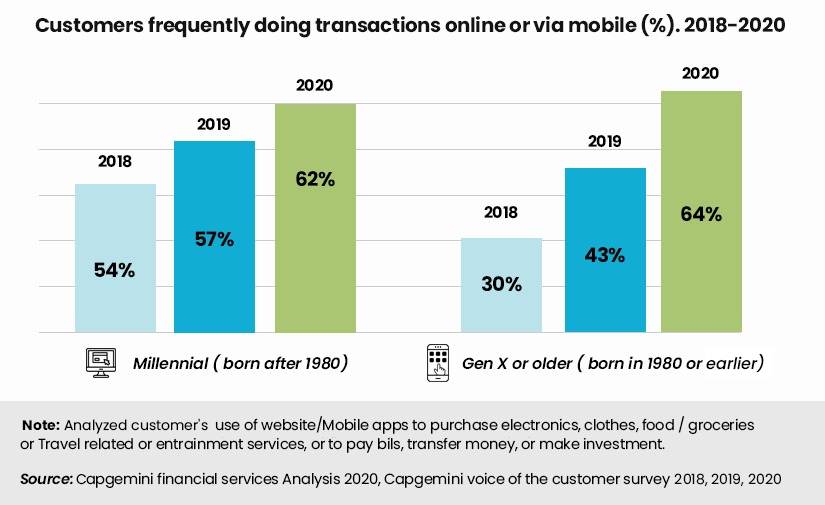 Before we go into the advantages, I would like to make the distinction clear between an insurance website and a consumer portal. Content on a website is globally visible and remains the same for every individual visiting the site. Web portal content, on the other hand, is almost always login-protected and user-specific. This in effect means that content can change from person to person or by a group. For instance, SimpleSolve's self-service portal empowers policyholders by providing multiple features such as the ability to verify coverage, view installment schedules, along with invoices and reminders. Solutions are customized and leverage years of expertise in the insurtech domain.
The advantage of self-service portals for insurers is more than an improved customer experience. Self-service portals have a strong ROI as well.
Insurers can lower their customer support calls through an up-to-date FAQ section that allows customers to quickly find the help they need.

Many routine tasks can be automated such as filling in and submitting claim requests and this helps improving turnaround times. A simple status call can take 5-10 minutes of an employee's time. Documenting the call can add to the call time. If there is a minimum of 5 status calls for each claimant, this totals up to 1 hour just for one customer. If policyholders can check the status of their claim and its progress on a self-service app, this not only increases customer satisfaction but also reduces overall cost.

A self-service portal will trigger automatic notifications to customers about policy renewals and changes in coverage. These alerts will reach the customer through multiple channels that can include email, mobile alerts, push notifications to the portal, and more.

Customer history of exchanges will be digitally stored and will ensure faster processing times. There is another hidden benefit too in the way of reduced paperwork and printing costs. This might seem inconsequential but considering the volumes of paper that are accounted for in annual budgets, cost savings are an important benefit.

The improved operational efficiency sends a positive message about the brand. It says that I'm always available and you can trust me to have your back. The level of customer loyalty increases exponentially to the level of personalization offered.
---
Of interest to you: Leverage Your Data for Intelligent Underwriting and Claims Decisions
---
The business value of customer self-service
Customers are influenced by their daily online experiences and are bringing this expectation to their insurance interactions as well. The advantage of customer receptivity to value-added services is also backed up by the fact that when insurance carriers improve on their self-service products, it could provide a $1-3 million annual savings according to Accenture research. Let me break this down through another supporting study from Forrester Research and Oracle.
The approximate cost per contact through different channels:
$12 for call center technical support

$5 for web chat

$2.5 for an email response

$0.5 for self-service
If you are receiving 5000 support calls each week that would result in a weekly expenditure of $60,000 and an annual cost of over $3 Million. Now if even 30% of these calls were to be handled through your self-service portal, it would work out to a saving of $900,000 annually.
It is important to reiterate that customers still need a human agent but a self-service portal can reduce the interactions needed for resolving a customer request.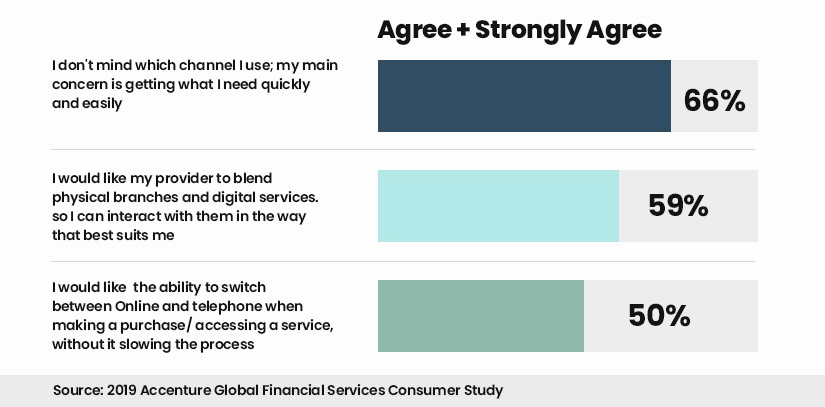 A hybrid approach seems to be the best strategy for insurers. By smartly balancing human and digital support features, insurers can provide an enhanced customer support experience. By further personalizing and "humanizing" the self-service portal by integrating a virtual agent (conversational AI) to find and answer specific information, customers will not need to dig through a ton of information. The good news is that a self-service portal can show immediate value as it starts increasing traffic to it.