Advantage of Implementing Insurance Mobility in Bite-Sized Pieces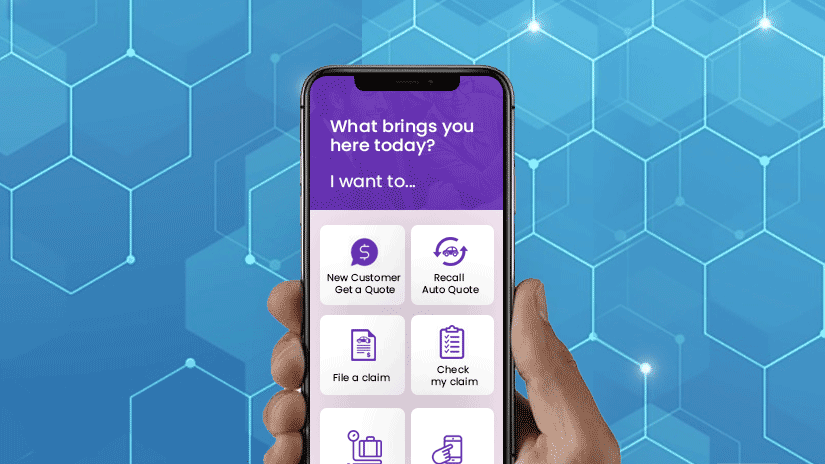 Smartphones today have become a permanent fixture for each of us, always within arm's reach. Statista's research indicates that in 2022, we will be spending, on average, 227 minutes each day on these little handheld screens. New technologies like 5G and edge computing will make us even more anchored to our devices.
The flexibility that insurance mobility offers is increasingly important in a market where carriers need to differentiate themselves by the experience they offer and not just their products. New technological advances in the field of mobility and telematics technology offer exciting new avenues for innovation. But regulatory constraints and legacy infrastructure mean that most insurance carriers cannot simply develop mobility solutions overnight.
The more achievable path to technological modernization would be to adopt a bite-sized approach. Knowing how to begin is important, after all, a journey of a thousand miles begins not with the first step (as the saying goes) rather with deciding on a journey's end and what to do to reach there.
Business benefits of insurance mobility apps
Insurance mobility features can be segregated into two broad categories: insurance agent apps and customer-facing apps. Both of these come with significant benefits. Which of these should be the first app you build?
Customer-facing self-service apps can cut down on customer wait times, while simultaneously freeing up more time for agents. Some of the most popular customer app features include:
Claims submission: Through self-service apps, customers can file a claim, upload pictures, and attach necessary documents through an online process

Chatbot support: A chatbot aided by AI and machine learning technology can provide customers with instant support, anytime, anywhere.

Policy management: Customers can easily upgrade their policy, access their account details, or renew a plan with self-service app features

Online payments: Customers can set up automated payments from their bank account or digital wallet so they never miss an installment and incur a late fee
Insurance apps for agents can free them from the constraints of traditional business processes, improving productivity and efficacy. Some of the most impactful mobility features for agents include:
Mobile CRM: Personalization is key in driving sales and improving customer satisfaction. An all-encompassing mobile CRM solution can help agents conduct context-driven conversations that improve conversions.

Internal collaboration tools: Overflowing email inboxes can be a communication blackhole. Insurance apps that have internal collaboration tools such as chat and common dashboards can help improve internal efficiency.

Adjuster app: On-the-go insurance apps can help inspectors and surveyors who are on location. SimpleSolve's Adjustermate app provides two-way mobility through smartphones and tablets for new business and claims-related surveys. Augmented reality apps can also help surveyors assess the true level of damage to an automobile or property.
Breaking down the path to mobility
Here's an interesting insight, The World Insurance Report, says that in 2020, 80% of Insurers were prepared to invest in digital services, especially mobility.
A traditional brick-and-mortar store looking to digitize and go mobile can set up an e-commerce shopfront in a matter of a few days. Insurance, however, has to contend with stringent regulatory laws, large volumes of sensitive data, and decades-long embedded processes. Given these challenges, mobility can be a daunting concept for insurance companies, even if they do accept its importance. The best approach would be to go slow and steady. In general, carriers should take a few basic precautionary steps when implementing insurance mobility.
Define goals to be achieved: There needs to be a clear 'why' before you launch a plan for mobility. What business objectives do you hope to achieve with greater mobility? Are you trying to increase agent productivity? Do you want higher customer satisfaction scores? Pinpointing your main objective will let an insurance carrier know what should be the first features to be made available in the mobile app and from there develop a roadmap for greater functionality.
Assess internal workflows: Mobility is, of course, not just for customer-facing apps, but also for your internal workforce. Insurance apps can help agents assess claims on the go. When conceptualizing a mobility solution, the new internal workflows need to be mapped out. The mobility solution should also enable BYOD (Bring Your Own Device) to increase the usability of the app.

Understand the technical requirements: Where will the app be hosted? Cloud-based solutions work best to ensure mobility, so you might need to move to the cloud or evaluate whether your current cloud infrastructure supports the new mobility solution.
Ensure security remains uncompromised: Security, without question, is the biggest priority when developing insurance mobility solutions. If multiple users, both within and outside your organization, are logging into the platform, there needs to be specific role-based access provided. A customer should only be able to access their account and policy details. Similarly, an agent should only be able to access data they have clearance for. The transmission of data from the app to the server also needs to be securely set up so there's no chance of data loss or theft in the process.
Wait! You might not be ready to invest in mobility
Mobility is undoubtedly a game-changer in insurance, but is it the right option for your insurance company? Before choosing to invest in the technology, ask yourself the following questions:
Question #1: Will my existing technology platform support mobility?
You might first need to prioritize system modernization preferably with open API ecosystems before diving into mobile initiatives.
Question #2: Can I commit dedicated resources?
To make the new app solutions a success, you will need a dedicated team that can steer the project. Sure, you will most probably go with third-party application development services but to meet the project objectives, even the best external team will need to be in frequent contact with you.
Question #3: Do I have the required budget for marketing the app?
The budget for insurance mobility development should include two components: the cost of developing the app and the cost of promoting it. Although modern consumers are comfortable with apps, they will not download an app unless they buy into the value proposition - will it make life easier. You will need to promote your consumer-facing apps and build awareness. Younger people will be easier to market to but you need older clients to come on board, as well.
If your answer to these questions isn't positive, then it might not be the right time to invest in insurance mobility. While mobility solutions are undoubtedly important, you should take a long-term approach to avoid potential pitfalls.
Insurance companies should also decide if they need to rope in external expertise to build mobility-centric solutions. Working with the right insurance software provider can help chart a realistic roadmap and make the transition smoother.


Topics: Mobility Applications