Will insurance underwriting take a digital leap to third-generation platforms?
Underwriting has always been the heart of the insurance industry. It is also one of the most data-intensive areas, yet data and information handling have always been the biggest bane for underwriters. This is why in the digital transformation of insurance technology, insurers are looking at major innovation in identifying and measuring risk.
The new underwriting platforms will be an easily customizable system with scalable data ingestion capabilities. AI, machine learning and predictive analytics will bring in a rich mix of collaboration tools, right across different commercial lines of business. While this may be considered revolutionizing in today's climate, truth be told, it is expected to soon be the baseline.
We cannot talk about this third generation of largely automated underwriting systems without also looking at the previous technology, that in many cases is still operational.
The evolution of insurance technology
If you were to take a time machine to the early 1960s, and step into an insurance company in that era, there would be huge mainframe computers filling up server rooms with heavy-duty air conditioners whirring and a nest of cables underfoot. Outside this room, would be rows of desks, piled high with paper documents. Manual and physical work was still a large part of the insurance underwriting process. These first-generation, mainframe computers. mainly provided rating systems to price and maintain a policy. Even when the technology moved from mainframe to in-house servers to the cloud, the platforms still worked on the principle of the least information needed to enable pricing.
In the 1980s, computing power improved dramatically, in large part due to the advent of software companies. With cloud computing gaining popularity in the late 1990s, both carrier and agency systems began to get increasingly complex. The second generation of insurance underwriting systems began to add workflow solutions to the core rating and policy platform. This meant more data processing functionality and smoother document flow through the insurance underwriting process of rate, quote and issuance of policies. Even though a higher efficiency was seen in these second-generation platforms, problems existed with the transfer of information. This was exacerbated in scenarios where there was a merging of companies or groups. Many insurance carriers in America still have these platforms that don't support modern underwriting needs.
With technology affecting every aspect of our lives, the nature of risk itself is changing. Underwriters have to adapt to evolving risks to stay relevant and they need technology to support them. For instance, lines are getting fuzzy between personal and commercial auto insurance with the number of mixed-used vehicles. With increased work-from-home prevalence in certain sectors, worker's compensation and homeowners coverage are seeing an overlap. Further, with the increasing usage of sensors that are generating gigabytes of real-time data every second, insurance ecosystems, in USA specifically, are evolving toward risk mitigation rather than just risk transfer. In this scenario, older insurance technology no longer has a place in risk assessment processes.
The third-generation platforms for underwriting insurance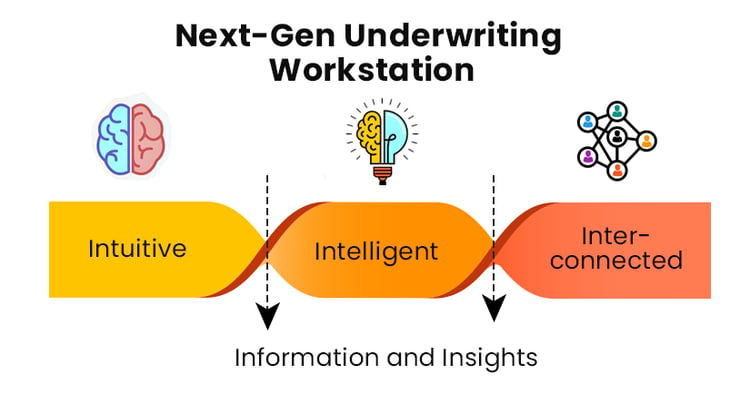 Policy, customer and claims administration systems are hogging the limelight when it comes to implementing sophisticated technology. Underwriters still find themselves pulling data from multiple sources and adding them to spreadsheets to evaluate the potential financial risks of new applicants. Insurers are also aware of the emerging talent gap as many experienced underwriters retire and move out of this very specialized niche. Thanks to emerging technologies, insurtech is providing new ways to make smarter and more informed decisions using new sources of data.
These maturing disruptive technologies are making insurers more confident about investing in increasingly automated underwriting systems. These platforms combine greater analytical power with a better understanding of changing market risks and opportunities. It is not that carriers have not attempted solutions to pull and manage data locked in numerous underwriting files as well as from site visits, websites, financial news, etc. The problem is that handling such complex data was time-consuming. The change in modern underwriting technology is because of the advent of big data platforms that are designed to manage high volumes of data that most of today's policy systems cannot.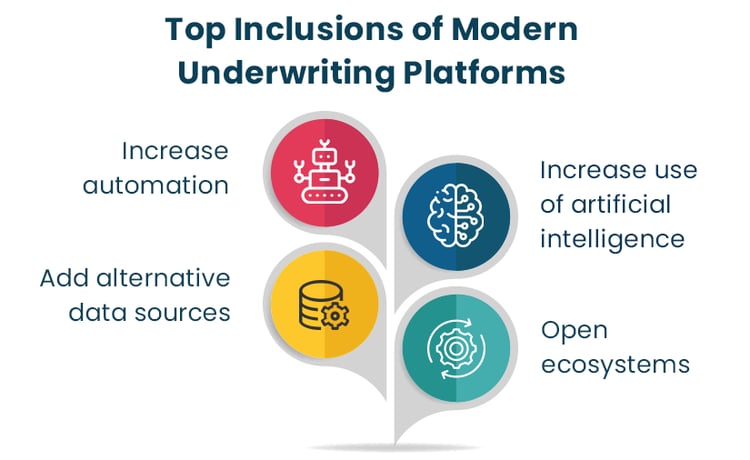 Modern underwriting technology will encompass these 3 product features as the foundation on which advanced features will be built
Natural language processing: In the commercial insurance sector, agents and brokers are the bridge between customers and insurers. Email exchanges are still the way most parties communicate, the problem with this is that underwriters are then in a back and forth regarding missing data. Natural language processing (NLP) and Optical Character Recognition (OCR) are programmatically extracting data from all forms of unstructured written communication and moving them into insurance underwriting workflows. Agents can be automatically alerted regarding any missing information to successfully close the sale quickly.

Reducing routine manual procedures will benefit underwriters to focus on high-value activities that provide customers with competitive pricing and faster turn-around times

Automating triaging: The first step in the risk assessment process is to route the request to the best-suited underwriter. This is usually an administrative process and relies heavily on someone within the organization who is experienced in routing the flow of work. The next-generation underwriting platforms will reduce this human bottleneck by using machine learning algorithms to automatically move requests to underwriters with the right skills and experience.

Not all insurance underwriting requires a human, automated triaging could also involve routing some of the low-risk business cases to a fully automated pricing and underwriting workflow.

Open ecosystems in insurance will open up a treasure trove of data: A microservice-based architecture that communicates through APIs is the way modern core platforms such as SimpleINSPIRE are linking ecosystems, service providers and customers. Future-ready companies like Lemonade offer renter and homeowner insurance using bots in their onboarding process that collect 100 times more data per user compared to insurers following more traditional methods.

Further, historical data alone may not be enough to underwrite insurance policies in the evolving risk climate of commercial insurance. Insurers are now more open to the idea of working with different external partners to help drive better and faster decisions. This choice of partners extends to both data providers and technology partners. Case in point, as Hurricane Ian heralded in the hurricane season, insurers are depending on catastrophe event data, aerial imagery, and impact forecasting to calculate their potential exposure.
Underwriting can never be fully automated because many aspects of it are judgment driven. What the new generation technology will do is make risk generation processes more reliant on data models, analytics and visualizations through big data platforms tailored for underwriting.
If you are interested to know more about these third-generation policy platforms, I would love to give you a demo. Reach us here.