How Tech Improves Efficiencies in Business Process Management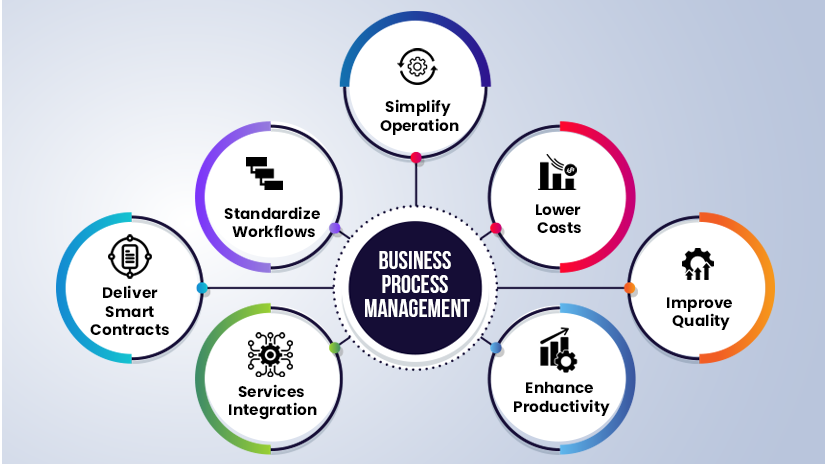 The insurance industry is one of the most labor-intensive sectors, making cost efficiency a significant business driver. A Capgemini global study indicates the increasing interest in business process management among both P&C insurers and life insurers, especially in front office operations, claims processing and underwriting. Cost savings and improved efficiency are behind the higher adoption of BPM in North America and this is now being reflected in Europe and Asia as well.
Insurance has its particular challenges when compared to other financial services - they must improve process efficiencies while better managing risk. This makes it imperative that underlying IT systems are streamlined to support business initiatives and be able to leverage innovative technology.
As per the 2020 State of BPM by Signavio, nearly 70% of the organizations implement BPM to reduce costs or improve productivity.
What is BPM?
Business process management helps companies evaluate their processes, identify redundancies and optimize them for maximum efficiency. BPM for insurance is critical as it helps companies move away from technology that might be holding them back and adapt to changing consumer expectations and ways of working.
Some of the biggest benefits of BPM are that it can give carriers a competitive edge, increase agent satisfaction and achieve low operational costs. These 3 business drivers make automation an integral part of business process management.
Business process management (BPM) uses a number of methods to analyze, measure, and improve business processes. It encourages automation initiatives of a large number of processes particularly in the front office, underwriting and claims processes.
Broadly, there are a few key ways technology in business process management improves overall operational efficiency within insurance companies.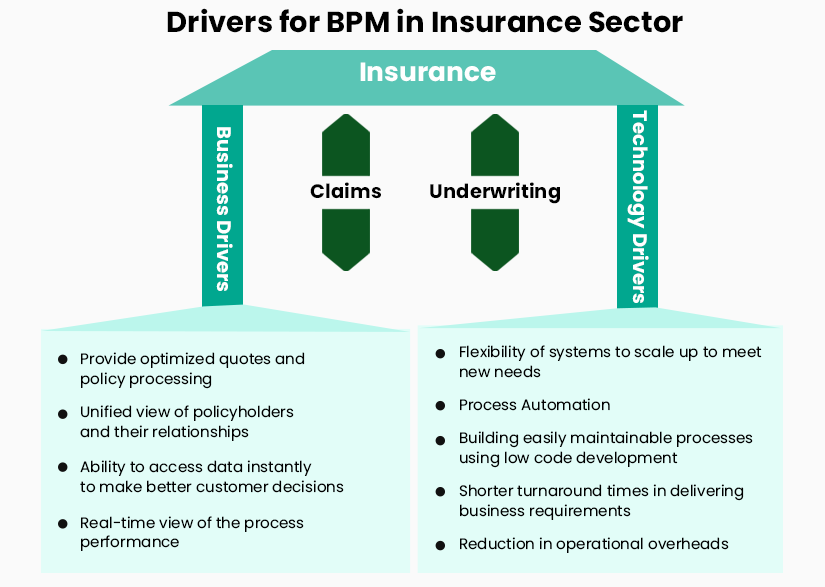 Improved underwriting capabilities
The huge digital footprint each user now has and their array of devices have led to a wealth of data available for insurers. This data can unlock previously difficult-to-measure metrics like the individual's risk level, with extremely close accuracy. In auto insurance, companies can install telematics devices in an individual's car to track how safely they drive and provide a personalized quote based on that. In health and life insurance, data from wearable devices can provide details into how much physical activity a person gets and other physical markers of health like heart rate.
However, the more data available, the harder it is to sift through and find the most relevant metrics. BPM for insurance can identify more efficient forms of data filtration. Automated rules and filters can comb through data in seconds and provide agents with an accurate evaluation. This makes underwriting a much quicker process and offers more reliability than manual methods.
---
Related Read: Ask the 5 Tough Questions of Potential InsurTech Company Partnerships
---
Leverage self-service features
Self-service is really a win-win solution. Customers want more autonomy and to be able to access the information they need without depending upon an agent to send it to them. Agents want to spend less time addressing repetitive concerns so they can focus more attention on complex tasks.
A self-service portal opens up a part of your insurance technology infrastructure to your customers. Customers can easily access details of their policy coverage, renewal dates, and more by logging into the portal. For instance, SimpleSolve offers system administration features that can offer different levels of user access. This ensures that your customers can log in through the self-service portal without compromising the security and privacy of your larger technical environment.
Bots and workflows simplify tasks
What if you could write 300 policies in a day with the same staff that currently write 200? Insurance business process management can help organizations realize the importance of including bots and BI to build intelligent workflows and automate several functions within insurance.
A smart Policy Administration system can support the entire lifecycle of policy transactions - from onboarding new businesses, endorsing users, renewing or canceling policies, and reissuing them.
Automation can also simplify claims processing. SimpleInsure's dashboard, for example, records claims against policies and immediately provides all the information an agent might need to reference for setting up a claim.
Bots are frequently seen in chat support for customers, but they can also be very useful as an intelligent assistant for agents. Tara, SimpleSolve's interactive bot, enables agents to perform intelligent underwriting by prompting them in real-time about cases with high-risk concentration or of prior insurance with claims. This is an invaluable insight to agents while they are quoting new business and increases the accuracy of NB quotes. Using a combination of insurtech solutions like bots, automation, AI and ML, your agents can reduce their Average Handling Time and you can maintain a flexible, agile team.
---
Also Read: Leverage Your Data for Intelligent Underwriting and Claims Decisions
---
Cloud software can reduce overall downtimes
Infrastructure downtime can be a huge blocker to the overall productivity of an insurance company. Bulky legacy systems require extensive maintenance by the internal IT departments in order to keep them working smoothly and ensure there are no security lapses. Software maintenance downtimes can lead to major productivity losses as business operations need to come to a virtual standstill. Legacy infrastructure is also expensive to maintain because they require huge dependence on an internal IT department.
The cloud, on the other hand, offers a seamless, less expensive alternative to on-premise systems. Not only is it better suited for today's hybrid work model, but it also requires minimal maintenance and little to no downtime. This means you can keep your infrastructure maintenance costs down, while your agents can enjoy round-the-clock access to the software. With fewer downtimes, the cumulative productivity of your team will significantly improve.
Increases employee retention
One of the benefits of BPM is that it can uncover smarter solutions that can improve employee satisfaction rates. Employees get the most satisfaction out of their work when they have the tools they need to perform their job successfully. With the latest insurtech business process management features, employees can complete everyday tasks quicker than ever before. SimpleInsure's unique context-based navigation, for instance, improves operational efficiency by helping agents quickly locate client IDs, policy details, claim numbers, and more. They have all the information needed to complete a business transaction at the click of a button. This means they end up spending less time on routine tasks and instead, contribute meaningfully to strategic initiatives. Higher satisfaction leads to lower attrition, which directly lowers costs and time related to hiring and onboarding new agents.
Finally
Insurance carriers should adopt an inside-out approach to technological modernization. Not only is technology a driving factor in stronger customer relationships, but when applied to business process management, organizations can achieve a 100% return on investment. Though the methods to calculate ROI can vary from organization to organization, the generally used method is calculating the cost savings per transaction.
Topics: Digital Transformation