CIOReview Recognizes SimpleSolve Inc. as a Top Insurance Technology Innovator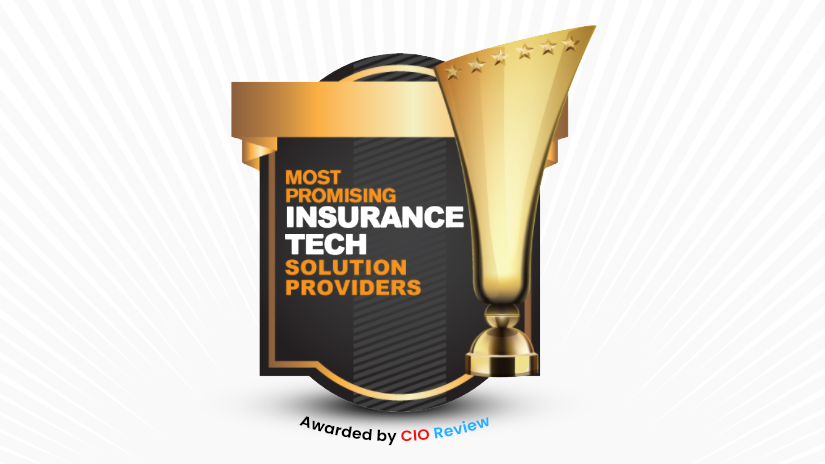 Organizations realize that they can't and shouldn't try to handle everything themselves due to financial and operational risk. A partnership is a preferable alternative in some cases. Insurtechs (insurance-focused tech businesses) are transforming the insurance landscape by establishing new ways of pricing, generating, distributing, and servicing policies. Engaging with insurtechs is a feasible method to tackle and close the innovation gap because developing new solutions involves time, money, and management effort.
At this juncture, various Insurance Tech Solution Providers are entering the market to cater to the different needs of enterprises. To help them choose the solution that best fits their requirement, CIOReview has compiled a list of top insurance tech solution providers.
About CIOReview
CIOReview is a leading technology magazine that is at the forefront of guiding enterprises through the continuously varying business environment with information about solutions and services. The magazine serves as a trustworthy knowledge source as well as a platform for C-suite executives, industry experts, technology buyers, and other decision-makers to share their valuable insights about new technology trends in the market.
Simplesolve has been named in the "20 Most Promising Insurance Tech Solution Providers - 2021" by CIOReview
Excerpts from the CIOReview interview with SimpleSolve's CEO, Antony Xavier
Read the full article here: https://banking-insurance.cioreview.com/vendor/2021/simplesolve
If you are located outside the United States of America, we have reproduced the cover story from CIOReview.
"Our goal with our platform is to create an insurance ecosystem and keep expanding it to integrate with emerging technologies." - Antony Xavier, CEO, and Founder, SimpleSolve Inc.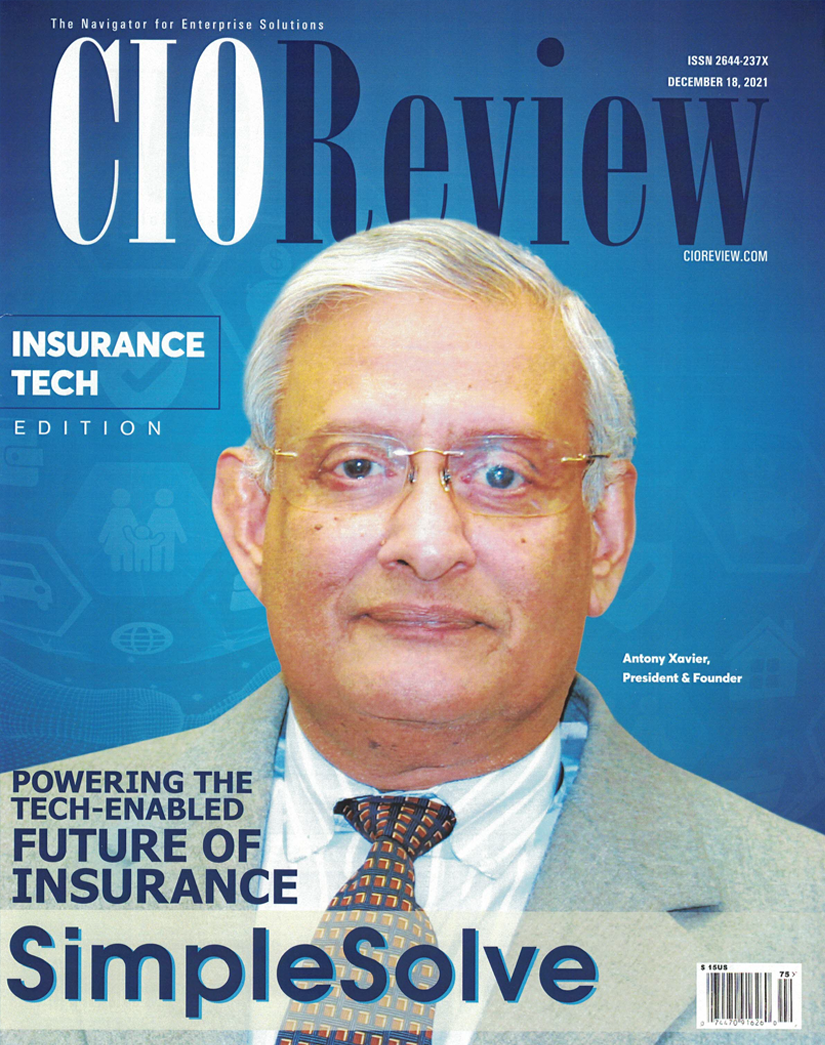 The insurance industry is set to be revolutionized like never before, with real-time connectivity, IoT integrations, big data, and blockchain coming into the picture. Consequently, the traditional forms of insurance are slowly making way for the tech-powered insurance of the future, along with innovative models like subscription-based and usage-based insurance. However, amidst these major developments, insurance companies find it a big challenge to change and adapt to these cutting-edge technologies, either due to legacy systems limitations or a lack of tech expertise. The conventional practice of building system capabilities grounds up, to accommodate sophisticated, high-cost technology is no longer feasible, nor affordable owing to the speed with which technology emerges and evolves in recent times. These roadblocks are preventing insurance companies from taking full advantage of these innovative and disruptive technologies to sustain and grow their business.

This is where SimpleSolve steps in with decades of experience in insurance and technology. Equipped with a new state-of-the-art platform, SimpleINSPIRE, the company embodies its founders' vision to simplify insurance systems and create an affordable, full-featured insurance administration system with easy implementation and seamless integration with emerging technologies and services.

Through its insurance platform SimpleINSPIRE –having an integrated core system at its base, yet designed to collaborate– it can help insurance companies progressively migrate to the digital world. Offering core services like underwriting, billing, policy renewals and issuance, accounting, a high degree of automation and integrations for efficiency like integrated emails, voice-to-text messaging, Google Maps integration, SimpleINSPIRE is progressively integrating with Insurtechbased solution providers with the objective of becoming a one-stop-shop for insurance carriers, and MGA/MGUs.

Guided by a team of insurance professionals and technology experts, SimpleSolve has created an API layer where its platform becomes the host to a greater insurance ecosystem with an integrated workflow shielding its clients from having to invest in multiple integrations and services, yet able to take advantage of emerging technologies.
With in-depth insurance and tech know-how, SimpleSolve not only recommends new technologies to clients most suited to their business needs but also takes responsibility for its implementation.

SimpleSolve's customized approach to building insurance products over its platform has helped differentiate themselves in the market, gain client traction and approval, and also attract Insurtech service providers keen on partnering with a full solution provider committed to simplifying the operations of insurance companies. To illustrate SimpleSolve's dedication, Xavier recounts SimpleSolve weathering the challenges of managing their internal operations amidst the height of the pandemic last year, to successfully migrate a new client onto SimpleINSPIRE. Leveraging its ease of customization and configuration, the client insurance company went live in April 2020 with around nine years of legacy data migration all within 14 months from the sales contract. In yet another instance, SimpleSolve helped an insurance startup launch its operations within three months.

Paving the path to more successes, SimpleSolve is in the process of enhancing integration with existing systems of organizations offering cost-effective, bespoke solutions to a wider clientele. "We have built relationships with several tech entities and are seamlessly integrating their capabilities into our system. This will help us further differentiate in the market," Xavier informs. To gain an additional competitive edge, SimpleSolve is already looking at technologies like blockchain to be future-ready. Currently focused on the US markets, SimpleSolve will continue leveraging technology to facilitate the ease of insurance buying and paying premiums with the swipe of a finger, steadfast on its mission to help digitize insurance.
Topics: News